CTP, TiE Rockies & The Innovation Pavilion recognized Larry and Pat Nelson as 2013 CTP Tech Icon Award recipients!
Sherry Law, Evergreen Communications - 1452_ 10/14/2013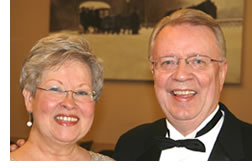 If you attend business events in Colorado, you've undoubtedly seen Larry and Pat Nelson, Larry with camera in hand. As founders of w3w3® Media Network, they have attended more than 1,000 events, taken more than 40,000 photos, and interviewed 2,000-plus tech leaders since 1998. Communications Technology Professionals (CTP) is turning the lens on Larry and Pat on November 7th to present them with the Tech Icon Award as part of the Annual Ascent Awards. It is the very first award of its kind. The Annual Ascent Awards celebrate Colorado entrepreneurial technology companies, recognizing excellence in a variety of categories. The event is presented by CTP and TiE® Rockies and held each year at the Innovation Pavilion. CTP holds two other keynote events each year, The Future of Technology (FOT), and the Technology Executive of the Year. "Larry and Pat are ever-present and constant supporters of Colorado tech companies," says Debora Langer, CTP president. "The board wanted a way to express how much Larry and Pat have meant to us over the past 15 years—and the Tech Icon Award was born in an immediate and unanimous decision. We are thrilled to be making the inaugural award to Larry and Pat, who are Colorado's true tech icons. We invite everyone who knows Larry and Pat to join us in celebrating them on November 7th." The Nelson's have supported technology companies and companies in diverse industries since co-founding w3w3®Media Network in 1998. The w3w3 all-business radio show website consists of blogs, podcasts, articles, recorded and archived audio and video interviews, business photos and a business calendar of events. Larry also conducts in-house seminars and offers keynote addresses on various business topics, including "Mastering Change in the Midst of Chaos," also the title of his latest book. Larry and Pat have been entrepreneurs in other realms as well, having lived in and owned businesses in five foreign countries that ranged from retail stores to high tech; warehouses to direct mail; and manufacturing to consulting and training.

A Worldwide Reach Focused on Colorado Business & Technology


1455_ 10/14/2013 - w3w3® Talk Radio is a blend of Internet talk radio, an online business magazine and an aggregator of business development strategies. Although it has a worldwide reach, w3w3® is community focused, in Colorado. Here are some valuable link examples:
RELATED LINKS: Mergers and Acquisitions || Community Reach || Venture Capital || Software || If someone in your organization would like to be interviewed, please send an email with details to radio@w3w3.com
Your desire is our command
1454_ 10/14/2013 - For speed and efficiency, the w3w3®

Podcast Directory has one overall Annual INDEX and is also broken up by month.
ARCHIVES - All Interviews for Each Year
Follow the Year Links…here are few examples:
2013 || 2012 || 2008 || 2007 ||
Brad Feld - into the emergency room - off the bike!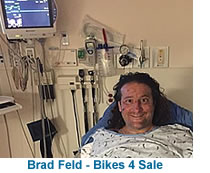 1626_ 10/20/14 - "Ouch"
A disembodied voice said, "You're in an ambulance. I'm just putting an IV in your arm," I had no idea where I was. I had a vague recollection that I had been on a bike. "You're in an ambulance. You are ok. Stay calm." I realized I was tightly strapped to a board and couldn't move if I wanted to. My legs hurt. My ribs hurt. My shoulders hurt. I couldn't figure out what had happened. I couldn't process where I was. I felt like I was coming out of a dream, but I couldn't remember the dream. I couldn't open my eyes. The doctor asked, "What day is it?" I responded, "I have no idea." I forgot to say that I usually have no idea what day it is. Patiently, the doctor asked, "Who is the president?" I thought to myself 'George Bush' but I paused, knowing that wasn't correct. After a short time, I answered "Barack Obama". "What is your name?" "Brad." "Good. You seem ok. Do you know what day it is yet?" I responded, "I generally don't know what day it is." The next thing I remember was hitting a bump and opening my eyes to see a woman pushing me through some doors. "Hang on – we are just wheeling you into the emergency room." Read the rest of the story...
RELATED LINKS: Feld Thoughts || Brad - Facebook || Foundry Group || Venture Capital Channel || Economy Builders || A Little Feld History || KEYWORDS: Brad Feld, Bikes, Amy Feld, Foundry Group, Venture Capital, Boulder Police, Seth Levine, Jason Mendelson, Ryan McIntyre, Do More Faster, Book, Author, VC
READ MORE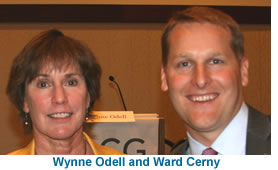 Bootstrapping the company and it grows in size and profits


1628_ 10/20/14 - Wynne Odell is Co-founder and CEO of Odell Brewing Company in Fort Collins, Colorado. She was the keynote speaker at the ACG Denver monthly meeting. Doug, Wynne and Corkie Odell started their brewing odyssey in 1989. The trio had no grand plans, but after five years of a draft-only format, bottles were introduced and rapid growth ensued. Twenty-five years later, Odell Brewing Company ranks 34th in size among craft breweries in the United States. Odell is a Colorado-centric company, with 65% of its sales coming from in-state. With the addition of Texas in 2014, it now distributes in 11 states. Doug, Wynne and Corkie, along with three of their children, still remain active at the brewery. A culture of family and collaboration fosters a brewery full of beer-centric people. It is this passion for beer that inspires Odell Brewing to create quality, hand-crafted, innovative brews. As a regional craft brewery, Odell Brewing is also committed to serving the communities in which it distributes by sourcing local raw materials, and through its charitable giving program known as Odell Outreach. Wynne said, "If you can bootstrap and hang on to the ownership of your company as you grow, you have an opportunity to reap all the rewards down the road." Listen for some great ideas for your business...
RELATED LINKS: Odell Brewing Company || ACG Denver || M&A Channel || Slideshow || Blog || KEYWORDS: Wynne Odell, Odell Brewing Company, Colorado, Fort Collins, Beer, Entrepreneurs, Doug Odell, Corkie, Draft-Only Format, Bottles, ACG Denver, Association for Corporate Growth, bytes=1953201
LISTEN TO: Wynne Odell, CEO, Odell Brewing Company

Powered by Podbean.com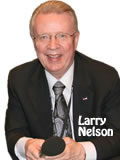 ---
Achieving Your Personal and Professional Goals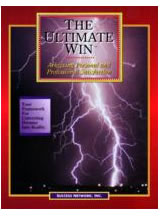 1486_ 1/13/14 - Don't Let Another Year Go By - The Ultimate Win is Yours! Larry Nelson has taught this material in seminars in over a dozen countries, from China to Canada, from Norway to Australia, from Germany to Japan as well as throughout the US. He shares the results of his international research about the Characteristics of an Achiever and then goes on to help you lay out your "personalized blueprint" for personal and professional success. Larry is an internationally published author, has been a consultant to many Fortune 1000 companies and is best known for his train-the-trainer programs and w3w3.com Talk Radio. Larry and Pat developed these materials 20 years ago and put them up on the web in July 2007. The 'Ultimate Win' link below takes you to a page that allows you to download and print the entire Resource Guide and listen to all the Audio Sections for FREE. This is our thanks to you…have a great year!
RELATED LINKS: Ultimate Win || 3-Filters || Your Goal || Training Trends || Mastering Change || KEYWORDS: Ultimate Win, High-Tech, Goals, Training Trends, Business, Interviews, Photo Chronicles, Pat Nelson, Larry Nelson > Learn More
LEARN MORE: Larry Nelson, Exec. Director, Institute for Change Research
Mastering Change in the Midst of Chaos™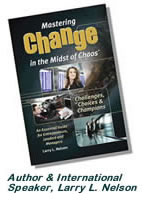 Here's what you'll learn in this 200 page book! - Apply the Principles of A-to-Z Planning to...

Build a Winning Team
- Tap into Your Team's Mental DNA to
Increase Performance
- Understand Your Sector's
History, Trends & Ground Swell

Regardless of the economy, application of these 3 initiatives will help you achieve your goals, meet your bottom-line metrics and accomplish incredible results. These 3 initiatives are Powerful, Proven and People-Oriented. Larry predicts there will be more significant changes in 2013 than in the last 10 years combined…across all sectors. Read More at Mastering Change .

Order now… It's yours for $10.00 and we'll pay the shipping in the US… (last chance - free shipping)