Message from ACG President Bill Heringer

Dear ACG Denver Members and Guests:

When you commit to spending almost two full days away from the office it had better be worth your while. You want to be inspired, motivated, and educated Ė both for your personal growth and the success of your business.

Thereís nothing quite like ACG-Denverís annual conference to meet high expectations like these. Ask the 740 registered attendees this year, who would agree that compelling keynote speakers, informative CEO panels, deal sourcing, and lots of opportunity for networking and socializing combine to create Denverís premier conference.

We thank Larry and Patricia Nelson of w3w3.com for dedicating its newsletter to the conference so that those who werenít able to attend can experience some of the excitement and benefit from the expertise of our speakers.

Every year the conference grows. We look forward to seeing this yearís attendees back next year along with all of you who didnít make it this year but are committed to growing your companies.

Mark March 11th and 12th 2009 on your calendar now. We guarantee that youíll learn key strategies that will make a difference in building, buying, or selling your business. Itís definitely time worth planning for.

Sincerely,
Bill Heringer President, ACG
Chairman, Rocky Mountain Desk Corporation
452_ Women and Leadership: How the Soft Stuff Can Lead to Hard Results


Born in Canada, Colleen Abdoulah, CEO & Chairman, WOW went to college thinking she wanted to work in the media, but realized journalism was not for her. But she got into the ad business as an account executive. That led to opportunities here in the US with an ad agency in Cincinnati. One of her clients was Warner Amex Cable which is now Time Warner, and she ended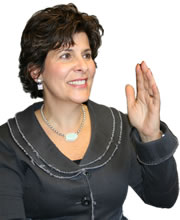 up going over to the cable side, and was in cable from 1984 to 99. She took a bit of a sabbatical at that point and adopted her "beautiful daughter" from foster care. Colleen spent about 3 years being a mom and doing some leadership coaching when she got a call from a venture capital friend asking if she wanted to come and help turn around the organization at WOW. That was August 5th, 2002. Today she is CEO and recently named Chairman of the Board. Colleen wanted an opportunity to put to work some principles that she believed and learned from her father. She went on to describe how they have accomplished some extraordinary milestones. "At WOW we set our goals. Everybody is clear what they are. So the what is clearly defined and planned for, yet we spend 99% of our time on the how. I believe if you spend time on how you get there, the results will be there. And the good news is we've proven that out at WOW. For five years now, we have over achieved, our financial goals, our operational metrics, every goal that we have set we have over achieved it. Every year we have paid bonuses, every year we've had salary increases, every year we have increased the amount of capital spent in order to give people the resources they need to develop and grow and for the business to grow. So we've proven that paying attention to what some call soft skills gets you very hard results. The WOW way is to lead with courage, serve with heart and celebrate with grace!" Colleen goes onto explain the 'how' details. LISTEN
Colleen Abdoulah, CEO and Chairman WOW, Part 2 of 2

453_ Key Points for Differentiating Your Company from the Competition


ďA lot of things are going well, how can we take advantage of that, continue the momentum and not just rest on our past successes?Ē That's a challenging question that Colleen Abdoulah, CEO & Chairman, WOW asks her team. "I donít want us to get complacent, take things for granted. So we are focusing on what we have done well, and how can we do it even better and make sure we do it consistently. Secondly how can we continue to differentiate ourselves in the eyes of our consumers, our employees because it is a very competitive world out there? Colleen is the opening keynote speaker at the 6th Annual Rocky Mountain Corporate Growth Conference. Her parents were immigrants during the depression. Facing a great deal of obstacles and prejudice, her father became a very successful entrepreneur. "I observed with three key take-a-ways for me that I thought I would always apply in my life," Colleen went onto explain. 1) You are no better than anyone else, and donít ever treat anybody like you are, no matter how much material wealth you have. And donít let them treat you like they are. 2) Know what you donít know. You donít have to be the sharpest pencil in the box to make a contribution. But make sure that you surround yourself with really good people who know things that you donít know and are maybe even smarter than you are. 3) The third principle was, Share the wealth. Always share the wealth and take care of people. There's more, and Larry and Pat will be there to cover this great event. LISTEN 3/10/08

Related Links: Rocky Mountain Corporate Growth Conference || WOW Home Page || ACG M&A Channel || Find It ||
Keywords: Colleen Abdoulah, WOW, ACG, Denver, Mergers and Acquisitions, Rocky Mountain Corporate Growth Conference> Bytes: 13196959 > LISTEN
399_ M&A News:
ABA Private Target Deal Points Study


The 2007 Private Target Deal Points Study, a project of the Mergers & Acquisitions Market Trends Subcommittee of the Committee on Negotiated Acquisitions of the American Bar Association's Section of Business Law, is widely recognized as the gold standard for market metrics of key negotiated issues in M&A agreements and has achieved notable popularity among investment bankers, private equity investors, CFO's and other non-lawyer deal professionals as an "unfair advantage" in negotiating private company acquisition agreements. The Study analyzes publicly available acquisition agreements for transactions of between $25 and $500 million in size completed in 2006 that involved private targets being acquired by public companies. The final Study included 143 acquisition agreements. Hendrik Jordaan of Holme Roberts & Owen and Clifford Pearl of Solomon Pearl Blum Heymann & Stich talked about other issues covered by the study: Purchase price adjustments and earnouts; Catch-all representations and warranties; Closing conditions; Indemnification survival periods, baskets, and caps; Dispute resolution provisions.
Related Links: Holme Roberts & Owen || Solomon Pearl Blum Heymann & Stich || Mergers & Acquisitions || It's the Law ||
Keywords:Hendrik Jordaan of Holme Roberts & Owen and Clifford Pearl, Solomon Pearl Blum Heymann & Stich, Mergers & Acquisitions, Private Target Deal Points Study Channels: HRO & ACG - 10/29/07 Bytes: 14207585 > LISTEN
ACG Denver members Hendrik Jordaan and Clifford Pearl are active participants in the working group that prepared the study and would be delighted to provide a complimentary copy to members of ACG Denver upon request. To receive your complimentary copy of the Study, and periodic updates and supplements to the Study, please contact Hendrik Jordaan of Holme Roberts & Owen, LLP at Hendrik.Jordaan@hro.com
Clifford Pearl of Solomon Pearl Blum Heymann & Stich, LLP at
cpearl@solpearl.com.
ACG Denver 2008
Rocky Mountain Corporate Growth Conference
BUILD, BUY or SELL
Driving Corporate Growth PHOTO Album 3/12/08
The ACG Corporate Growth Conference, exhibited a culture of innovation from the start... I loved the registration process; Iin a private room, spacey, organized, friendly and efficient! From there we ran the gauntlet of booths and industry leaders to a fine sit-down breakfast and the first morning keynote at the Fourth Annual "Women in Corporate Growth Breakfast" - inaugurated by Sherry Law.
Colleen Abdoulah - WOW - blew our socks off! Energetic - enthusiastic - fun and funny, she approached her presentation with zeal and enthusiasm. Her spellbound audience members must have hidden the requisite chauvinist, because we didn't see him. Colleen asked, "What is leadership? It is bringing out the best in ourselves and others. Don't tolerate bad behaviors from anyone, male or female."
Visit WOW Home Page
LISTEN In her own words...
The day continued with excellent panels, sparking creative, innovative, enthusiasm and a desire to get back into the action – glad the conference was interactive. David Mead, Mead Consulting, Mike Britti – Trans Union Rental and Dan McCallin, Timberline Steel, shared experiences in "Getting Out On Top" Tidbit: How to determine the value of your business to others:
1) Consistent Improvement of Cash Flows 2) Your Growth Story 3) Capable Management Team and 4) Solid performance history.
Charile Fote & Brian Meegan, Ireland Stapleton Pryor & Pascoe discussed "Keys to a Successful Transaction" – "Manage yourself hard on time, dates and spending money. Hold yourself and others feet to the fire!" Certainly seems to work for Charlie!
We've listened to the voices of experience. We heard their warnings and their encouragement. Next, we got to celebrate with the winners, the people who are doing it and doing it right. ACG Denver honored CIBER, Inc. with Outstanding Corporate Growth Award. Mac Slingerlend President & CEO, led CIBER's rise as one of the leading Information technology and e-business solutions companies in the United States.
Emerging Company awarded to Noodles & Company, Kevin Reddy, CEO, demonstrated steady growth for three consecutive years. Additional qualities considered for this award are company leadership and the strategy behind its growth and reputation in the general business community.
Todd Woloson (Izze co-founder) Greenmont Capital said, "Inflection point planning maximizes returns and focuses your business." Rick Dutkiewicz, CFO, Einstein Noah, said, "In the next 9 months, have your company staged for the growth opportunity. It's always darkest before the dawn."
From here we went global. John Lathrop, DU; Douglas Allen, DU and Dave Garrison, Sr. Counsel the Americas, CH2M Hill told us, "… the world is flat… and there is a trend toward a universal standard of conduct. But international projects are not for the faint of heart."
The full day was wrapped in a great reception. People excited by the ideas and thoughts still had the winning Nuggets game ahead, plus one more thrilling day.
And thrilling it was. Our breakfast keynote speaker Howard Putnam took our hearts and minds soaring thru the Southwestern skies. This man professes to surround himself with people smarter and better than himself. He said they plant ideas in his head and he, being the pragmatist, turns those ideas in his head until they become real. "Turbulence is inevitable, but misery is optional." LISTEN - VISIT: Howard Putnam.com
The following panels we're extraordinary. The interactive and charged atmosphere was compelling. Responsibility & Accountability of Innovation… Paul Bauer moderated, Frank Kvietok, Jon Nordmark, Doug Taylor and Vic Ahmed generated a torrent of thoughts and experience. Tidbit: Innovations often have unanticipated consequences. Be prepared to listen to bad news. If it's something you should use or change – do it. But don't stop innovation.
The Human Capital Dimension of Growth: Ralph Christie, Jr., Pres & CEO of Merrick and Company believes …"Engineering is sexy again! And he'd love to be 27 again. With the energy challenge it is a great time to be an engineer. Ralph is extremely bullish on the future… "Growth is implicit in our plan." This is an amazing time and Ralph says, ".. he refuses to participate in a recession!" Here we found another CEO that has HR report directly to him and allocates 20 to 30% of his time for human capital management. It's that important.
Then came lunch with Joe Calloway. Let me just say, we bought all of his books, interviewed him and left inspired and in possession of a new friend. Joe's down home but very polished presence caught everyone's imagination. There could not have been a better selection for finishing a stellar event. Joe found a thread ("more like a cable") running thru this conference and it was 'culture'! "Benchmark your culture, it is what we think we're all about." Courage is the mastery of fear – not the absence of fear. Take a risk and do it. Without action there is no creativity. LISTEN - VISIT: Joe Calloway.com
All in all it was a heady experience and the last challenge of the day came from Joe Calloway, to decide what you're going to do in the first hour back at work to make a difference?
We left with the dates for the 2009 conference, March 11th & 12th along with printed literature describing and introducing us to next year's featured speakers, Terry Jones (travelocity) and Jack Uldrich, author, "The Next Big Thing is Really Small".

Related Links: || ACG M&A Channel || Rocky Mountain Corporate Growth Conference || ACG Denver || Keywords: Colleen Abdoulah, WOW, ACG, Denver, Dave Mead, Bill Heringer, Mike Britti, Trans Union Rental, Dan McCallin, Timberline Steel, Charlie Fote, Brian Meegan, Todd Woloson, Rick Dutkiewicz, Einstein Noah, Kevin Reddy, Noodles & Company, Howard Putnam, Ralph Christie, Merrick and Company, Joe Calloway, Mergers and Acquisitions,
406_ Successful Leaders Blend
a Technical and Realtionship Focus
Imagine, graduating with honors, starting your career with a leading service provider, learning the keys and methods to excel in your job, but are overlooked for promotion because you are lacking people skills...or worse yet, you get the promotion and are lacking the relationship skills necessary to be an effective leader. David Mead, CEO & Founder of The Mead Consulting Group, Inc. and Chairman of the Association for Corporate Growth (ACG) Denver shares some information about an interesting new business program that puts together the collective talents of DU, CU, members of the organizational development and business communities to help equip the next generation of leaders. The ACG Leadership 20 program was designed to help equip a new generation of professional and community leaders from professional services firms. The program is designed to help these emerging leaders make a difficult transition from a technical transactional focus to relationship focus – with better leadership skills. There are lessons for all of us to learn here... listen now.
Related Links: ACG Denver || ACG Denver Events || ACG Channel || PodCast Directory || Keywords:Association for Corporate Growth, Denver, ACG, David Mead, Leadership 20, 11/5/07 Bytes: 9502200> LISTEN
401_ Social Entrepreneurship:
A Giant Step for Mankind and Profits
Social Entrepreneurship is the 'final frontier' of philanthropy. Steve Bigari and America's Family work with employers like McDonalds to help their low income employees break the cycle of poverty. This will benefit us all. Steve's journey really began at McDonalds, watching people struggle. He employed 600 people at any given time, and the rule, not the exception, the rule – these folks struggled on a day to day basis to make ends meet. "What I found, by getting involved and connecting with them, so basically creating relationships for them, if I could add education and relationships to their hard work, that's central to everything we learned. If somebody doesn't want in the worst way to break the binds of poverty, they're not going to be able to." The most important ingredient is they must be willing and able to work hard. Steve is a keynote panelist at an ACG Denver Luncheon - Social Entrepreneurship - When Greed Is Good: Creating Value and Making a Difference Through Common Good Capitalism. His motto: Inspiration, Instigation and Innovation.
Related Links: America's Family || America's Family PodCasts || The Box You Got || Program Details || ACG Channel || Today's Competitive Advantage || Keywords:Steve Bigari, America's Family, The Box You Got, DU, Social Entrepreneurship, ACG, McDonalds, 10/29/07 Bytes: 12801988 > LISTEN
CB-27_ Founders Help Company Make Transition to Professional Management

From the Front Lines: Correctional Healthcare Management's journey - providing cost-effective healthcare for correctional facilities. Founders help company make transition to professional management. The chairman of the Association For Corporate Growth-Denver interviews the principals in this frank discussion of their challenges and ultimate success. Founded by Cristina and Chris Capoot in 1997, CHM has enjoyed significant growth over the past ten years and currently has more than 500 employees with 27 customer facilities in 8 western states. By David Mead:
Read the interview
Related Links: Complete Story || Colorado BIZ Today || w3w3.com Blog || PodCast Directory || Channel: COBIZ ||
Keywords: Colorado Business Magazine, COBIZ, David Mead, Cristina Capoot, Chris Capoot, Correctional Healthcare Management >
Read More
7/2/07
The Five Deaths of Frontier Airlines..
And How They Lived to Tell About It!
The Association for Corporate Growth (ACG) Denver had as their guest, Sam Addoms, Chairman of Frontier Airlines' Board of Directors. His inspiring story of Frontier Airlines combined intellect, humor and great stories as he shared the ups and downs of growing a business in an industry significantly affected by 9-11, while raising capital along with the real story behind one of the most successful ad campaigns in America. Sam didn't pull any punches…he called a spade a spade. With all the tough times, including the bout with the BIG gorilla, humor was always part of Sam's delivery. It's an extremely interesting story, filled with learning experiences for all of us.
Related Links: ACG Denver || ACG Denver Calendar || Frontier Airline History || Event Photos || Find It || Channels: ACG, News :: Keywords: Sam Addoms, Frontier Airlines, Association for Corporate Growth, ACG Denver> Bytes: 18826870 LISTEN 6/25/07
ACG Denver Events for 2008
ACG Event Photos by w3w3.com
Click Photo to see All Photos

3/12/08 6th Annual Corporate Growh Conference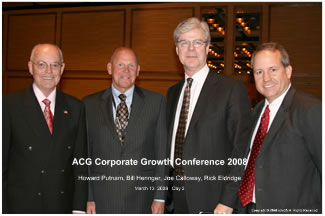 Corporate Growth Conf - 2008, Day 2 3/13/08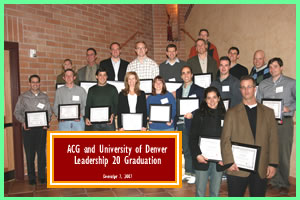 Leadership 20 Graduation 12/7/07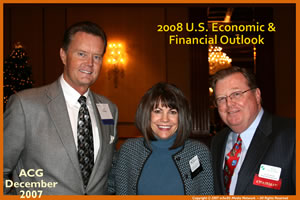 12/4/07 US Economic &Financial Outlook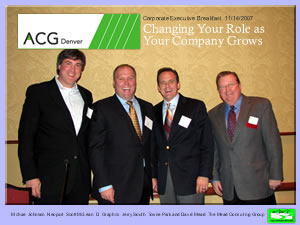 11/14/07 Changing Roles as Company Grows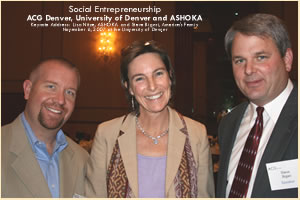 11/6/07 Social Entreprenuership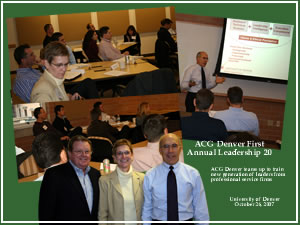 10/26/07 First Annual Leadership20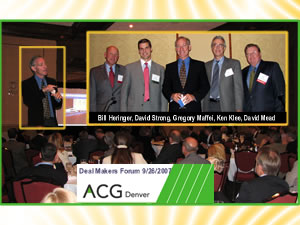 The Deal Makers Forum - 9/26/07