LIBRARY

Associations
Beyond the Trends
BioSciences
Colorado-OEDIT
Colorado-OIT
Cyber Security
Entrepreneurs
Ethics
Holtzman Report
Homeland Security
In the News



Leaders-Profiles of
Looking for Money
Market Buzz
Mobility
Nanotechnology
Renewable Energy
Resources
Software
Success Stories
Training Trends
Venture Capital
Check Out:
BroadbandVideo
Customer Paradigm
DaVinci Institute
StartupBasecamp
SPONSORSHIP
BE A GUEST
ADVERTISE


CRITICAL DownloadS







*BBV - VIDEO*



SEE the Innovation
Summit Rap-up!
AmberAlertNet
Download Your Copy
of this extraordinary
gift developed by Webroot
Remember you could
Save a Child's Life!

HOME || EVENT PHOTOS || WEB CALENDAR ||ADVERTISE ||PRIVACY || ABOUT US
ARCHIVES LISTing by Last Name HERE

Denver Post & Ross Wehner Report on w3w3.com 2/14/2005
Ross Wehner, business writer for the Denver Post says, "Instead of breaking news, w3w3.com contains thousands of pictures and hundreds of interviews, which Internet surfers can listen to at a click of the mouse. It has a feel-good, Oprah-esque quality." Ross said, w3w3.com offers "Quirky views of the local who's who." READ

Intentional vs. Reactive is the Hidden Economic Challenge
3/21/05
-
Brian Vogt
Director of Colorado's Office of Economic Development and International Trade is concerned. Some people are fearful in their resolve to move forward. As a result, instead of being intentional and farsighted, they will become reactive. The audience at
AeA's annual "Luncheon with the Legislators"
heard Brian's 5-point plan.
LISTEN

Webroot Tracks Them with Anti-Spyware Technology 3/14/05
Everyone has heard about the $108,000,000 in funding that locally based Webroot received recently. What you might not have heard was how Webroot got its start. It is certainly an inspiration to entrepreneurs and to David Moll, who was recruited in 2002 to become CEO. Co-Founders Steve Thomas & Kristen Talley are quite unique. Part 2 of 2 Some Sat Idle, Wondering if Spyware was Really Needed 3/21/05 - David Moll, CEO of Webroot Software talks about their success story and what they went through to get there. June, 2004 Webroot launched their SpyWare program and today Webroot has offices throughout Europe, has a standalone support center and handles support in five languages... taking on a worldwide challenge. LISTEN

Rob Reuteman Reveals the Real Hard Facts 2/21/2005
Rob Reuteman, business editor for the Rocky Mountain News talks about the current economy and what happened leading up to it over the past number of years. He reveals the signs of the past that were ignored as well as hard facts and details of where Colorado is headed…positive, but with cautious optimism. 2/21/2005 LISTEN

It's a Team Effort When it Comes to Winning Big 3/7/05
You can spot a "real" winner when he or she gives credit to the team. LISTEN Larissa Herda,Chairman, CEO and president of Time Warner Telecom was just awarded the Telecom Professional of the Year Award by the Denver Telepros association…only the 5th to receive the award. TelePros - Photo Album
Streaming Video Evolution Becomes a Revolution 2/28/2005
VIDEO: Jock Mirow, co-founder of BroadbandVideo announces a revolutionary new technology that allows users to publish their own video automatically. Larry Nelson interviewed Jock. Moments later, via a FireWire connection to the computer it was uploaded, then encoded and voila, it's on the Web. Thanks to ItsActive.com.

Jon Nordmark, has Experienced Many Hockey Sticks
CEO of eBags.com, Jon Nordmark believes in building a company to last, not one to flip. Playing hockey in college Jon learned the fundamental principles of teamwork and what it takes to climb out of the pits in this Profile of a Leader interview. The early team members at eBags invested money in the company. 2/14/2005

Brad Feld Goes With His Gut, but Uses His Brain
You might be surprised to hear what was the turning point in Brad Feld's life, managing partner of Mobius VC,. He went to MIT, and at pre-orientation they were told that 50% of the students would be at the bottom half of the class. In this Profile of a Leader interview Brad offers personal advice to entrepreneurs. 2/14/2005



Colorado's Solution for Executing Vision with Partners - Advance Colorado, in just 3 months has gone from conception to reality. Brian Vogt, Director of the Office of Economic Development and International Trade along with Lu Cordova, President of CTEK Colorado Venture Centers share their vision of cooperation, collaboration and integration…it's an overnight success. 12/13/04

Bringing SOLAR Into The Mainstream – BP - 11/08/04
At the World Renewable Energy Congress, John Mogford, Group Vice President Renewables and Alternatives at BP delivered a powerful speech about some very important topics including "Profitability Plus Sustainability", "The Solar Industry", "Priorities for Policy-Makers", "What BP Plans to Do". Complete Transcript.


John Cody Paints a Picture of Economic Development
"As we emerge from this recession, advanced technology is going to lead the way," says John Cody President & CEO of the Longmont Area Economic Council. He supports his position with some sound facts and has the history to back it up. You'll be surprised at many of the topics he addresses head on. 10/4/04

\

Chas Williams, Death by PowerPoint vs. Killer Presentations
Are you ready for another bullet point presentation that is read word-for-word as the person next to you starts snoring? We know the answer, but that's what we'll all see at the next meeting…unless of m62 gets his way. There's more than one idea in this UK interview that can give you the edge. Picture this! 10/25/04
Good vs. Powerful Presentation Secrets - 11/15/04
This time Chas Williams of m62 was in the w3w3® Media Network Studio rather than in England for this follow-up interview. Chas shared a few "golden nuggets" with Larry and wait until you hear the last one. 11/15/04

Colorado, Portal Authority, eGovernment and MNT
Governor Bill Owens at the Colorado Technology Summit signed senate Bill #244. Leroy Williams, Secretary of Technology and CIO for Colorado and his team have been working on its implementation and execution quite diligently. In 2005 we should see a number of new & exciting things in CO's eGovernment.


Dream Destination vs. Budget Challenges 10/25/04
Speaking of economic development, Colorado ranks among the top 5 "dream destinations" in the US points out Governor Bill Owens. Many of us take this for granted, but when we consider our visitors spent over $7 Billion in 2003, tourism stands out in the crowd in many economic ways. Challenges and Choices.

The Secret Sauce of Success (It's not Luck)
Mayor John Hickenlooper, is the quintessential example of converting a challenge into an opportunity and then onto success. During this "Profile of a Leader" interview you'll hear how he achieves and how he was motivated to be a winner. It's a one-of-a-kind story you won't hear somewhere else.


Wendy Bohling Talks About the
If you don't know what SIP is, you could find yourself way behind the curve. Bohling, Wendy, a Director at AVAYA explains Future of VoIP some of the critical factors about VoIP or what AVAYA calls IP Communications. There are still some adoption challenges but the promise of "find me, follow me" will get some CFOs looking at ROI.10/4/04



The Art of the Start – Kawasaki Style


Larry Nelson, business owner for 30 years enjoyed hearing Guy Kawasaki, discuss 11 key points with 3 sub points each on what it takes to build a long lasting successful business at a CTEK Brown Bag meeting. Larry wishes he had heard these decades ago. Pat Nelson bought his book, "Art of the Start." 10/12/2004
Archives LISTed by Last Name GO HERE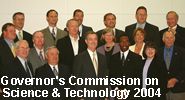 Three audio clips and photos from the Governor's Technology Summit
-Governor Bill Owens talks about the good, the bad & the options
-Dick Notebaert talks about major Qwest changes including VoIP
-Both the Governor & Notebaert field a variety of dicey questions


John Maguire is her Majesty's Consul
In this "Profile of a Leader", John Maguire, UK Consul explains what shaped him as a man (and whilst he is too humble to say so, what experiences led to his strong leadership abilities). Not everything was a smooth ride, but they were all learning experiences. John says, "Education is the great leveler."


Norton Jane is Bill Owens' Lt. Governor
"The position of the Lieutenant Governor in any state is ill defined says", Jane Norton. Coloradoans will now have an understanding not experienced in other states. After w3w3® quizzed her about her role, Jane filled in some new details about the state's effort and support of the aerospace industry


The Beginning of the Internet + Challenges & Dreams
Vinton Cerf, widely known as one of the "Fathers of the Internet" was the keynote speaker for the annual CITI CIO Award program. Cerf is a techie with a personality…and a whole bunch of spot-on information. At a press Q&A, he addressed the future challenges and greatest hopes for the Internet.


Doing Business in the UK + Tips on the Tricks & Traps
Mark Dyer, responded to the concern of cultural challenges of a US company expanding into Europe. The first stop for most companies is the United Kingdom. Whilst there are fewer cultural differences with the UK than other "Euro" countries, there is some handholding necessary…even with market research.


Image Guided Tech + Twist & Turns on Way to IPO
Paul Ray, the well-known serial entrepreneur about a success story that started with BTI (Boulder Tech Incubator…now CTEK) in 1992. This story about Image Guided Technologies is not an overnight success story, but one that was fraught with challenges while going public and then being acquired, no simple feat.

Gov. Owens Commission on Science & Technology
Governor Bill Owens, introduced by Marc Holtzman spoke about the lay of the land for Colorado. Leroy Williams, Secretary of Technology hosted this year's first

Commission session and had other heavy-hitters address the high-profile group. The Governor has some high-impact plans.
Federal Reserve Looks at the Deficit + New Insights
Dr. Michael Cox, senior vice president & chief economist of the Federal Reserve of Dallas shed some new if not controversial light on the growing national deficit and outlined what we need for a proper recovery. Governor Bill Owens joined Dr. Cox, for a lively and surprising Q & A session.


Mantra for Venture Capitalists Today + Mobius VC Tips
Brad Feld, managing director of Mobius Venture Capital identifies what VCs are looking at today…including exit strategies, hot markets, checklist of the VC's mantra, what Mobius VC is focused on today as well as essentials for the first-time entrepreneur who is building a new company.

Fire Station No. 9, Denver
crews are ever ready to help their community. The firefighters spirit is something special! When it doesn't require risking their personal safety, they and the
Colorado Professional Firefighters
continue to offer help!
Thank You!
National Renewable Energy Laboratory: Tech Transfer Success LISTEN


The Tech Transfer Team at NREL supports the Mission of "Realize the Value of Public

Investment.PART 1 >" Listen to them explain how it's done for everyone to see. Tom Williams, Bobi Garrett, Walter Copan, Marty Murphy, George Douglas explain how the barriers to use are overcome by leveraging knowledge. PART 2 The NREL Way to Bring it to Market > PART 3 Answers to Renewable Challenges - NREL > PART 4 Unlimited Energy – Fact or Fiction?

Rwanda Radio 10 Years After Genocide + Challenges
Eugene Nyagahene, founder and CEO of Rwanda's first radio station since 1994 and the genocide that the world turned its head away. When the 1,000,000 plus people were brutally murdered in a 100-day period, the radio station in Rwanda was used as a tool to help the killing. Presidential Visit to DU 4/14/04

Gov. Lamm and the Brave New World of Heath Care
Richard Lamm, Director, Center for Public Policy and Contemporary Issues at DU and former 3-term Governor of Colorado is not known for avoiding the issues. Governor Lamm goes outside of the box to explain his views on our health care crisis. He talks about the challenges and the choices.
Part 2, He tackles a series of questions about the future of health care. His new book, "The Brave New World of Health Care" brings out some critics, but he makes it hard to argue.


Governor Lamm in the Profiles of a Leader Series +
Not making the football team, the charisma of John F Kennedy and being a lumberjack in Oregon were ingredients that shaped the life of Richard Lamm. He is Director for the Center for Public Policy & Contemporary Issues at DU and became a 3-term Governor of Colorado. Here's a new look


Homeland Security – What Must Be Done 4/2/04
Part 1 - Sue Mencer, Director, Office for Domestic Preparedness, Dept. of Homeland Security has about a $100 million budget and answers directly to Tom Ridge Secretary of Homeland Security. Sue explains that training is a major component in the distribution of funds…be prepared. Listen to Part 2, she offers some practical "at home" advice

Lu Cordova
,
3 Challenges Entrepreneurs Face
President of CTEK and Chairman of CTEK Angels identifies the 3 biggest challenges entrepreneurs face. They are showstoppers for many. Lu and her crew are continually examining business models and evaluating what works and doesn't work... need-to-know info.
w3w3® is committed to continue to deliver the "Best of the Best" in High-Tech & Business stories directly to your desktop in 2004, 24/7.

Careers Not Invented Yet
- LISTEN: Part 1 of 2
Jared Polis
, Chairman of the State Board of Education in Colorado was the keynote speaker at the DaVinci Institute's "Night with a Futurist". Jared talked about the uncharted waters of the Future of Education. We know there's a need, but is there a workable solution?
(Part 2 of 2) March 2004

Organizing Important Emails - Your email "Subject" lines take on a whole new meaning since the new virus outbreak. Larry Nelson of w3w3® Media Network says blank or misleading Subject lines can lead to frustration, deleted messages and a lost-in-the-maze emails. This replay of "Annoying the Receiver" is a must listen for those who deal with Larry…the Top 5 Mistakes & Solutions.

2004: MORE CHANGES
Melodie Reagan, CEO of Auromira Executive Advantage, predicts the technology sector will improve significantly in 2004. We will see fundamental shifts in how companies do business; including the way teams and even executives are hired. "Our industries will experience a distinct shift in the number of W2 employees," explains Reagan.
CAPCO: NANOTECHNOLOGY


CAPCO has been a hotly contested issue carrying forward from last year's legislative session. Senator Moe Keller introduced a bill to secure $2 Million for local Nanotechnology development. "Nanotechnology is the next growth area for high-tech, and this bill will increase job and company growth locally, while possibly bringing more monies into the state out of the $3.7 billion federal bill," explains Senator Keller. Get Additional Information
IP: CHALLENGES & CHOICES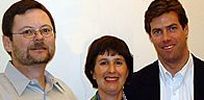 Transforming any organization or process can be a daunting task. Ken Porter, Vivian Dullien and David Drake discuss and evaluate the progress at the CU Tech Transfer strategies. Collaboration from all areas will be instrumental in commercializing more research.
DU + Rahmat + Tech Transfer
Rahmat Shoureshi, Dean of the School of Engineering and Computer Science at the University of Denver (DU), is reaching out to other Universities to collaborate. He also plans on capitalizing on the DU assets to develop a first-class tech transfer process aimed at commercializing patents born at DU. Sounds fiscally responsible to us. February 2004

COLORADO BioScience ASSOCIATION
Two of the most important associations in Life Sciences have merged to form the powerful and very progressive Colorado BioScience Association (CBSA). They are 225 members strong (and growing) and will be hosting 25 programs in 2004," says Denise Brown, CBSA's Exec. Director. Denise talks of challenges & predictions

ROCKY MOUNTAIN NEWS INSIDER
Spam is big news. Get the inside scoop about the clash of a local company with Microsoft. Ethically speaking, Lockheed Martin made off with $4.6 million, points out business writer for the Rocky, Roger Fillion. He unveils the battle between Space Imaging & Digital Globe and comes back to earth to give us his eye on the economy.

GETTING INVOLVED with WASHINGTON
When president Bush signed a $3.7 Billion bill for "Nano Tech", everyone agreed that it was a good thing to be involved with Washington. The Colorado Nano-Technology Initiative (CNTI) had their proactive thinking caps on and has set some lofty goals. Glenn Rhoades, Louis Hornyak & team issue a NanoTech call for action..

COLORADO BioCLUSTER
Colorado's business climate and macroeconomics are indicators and important issues to bioscience firms. Dr. Arlen Meyers, professor at UCHSC and executive director of the Colorado Alliance of Bioengineering gives a look at the Batelle BioTech Plan and its progress and prognosis. Collaborative partnerships between industry and academic researchers are essential in building a world-class biocluster.

NanoTech and (FUN)ding


How does Colorado compare to other states in the NanoTech arena? What is it going to take to develop a first-class biotech cluster? There are many pieces to those puzzles, but in any scenario, money is a major factor. Russ Farmer discusses SBIR & STTR Grant funding with Louis Hornyak and his NanoTech team.

Homeland Security Gap
The United States is the best emergency response country in the world…but it's mostly ad hoc. Dr Murray Hamilton, Director of the Rocky Mountain Center for Homeland Security at the University of Denver is very frank in this interview about what he calls the country's biggest gap in homeland security. Communications and coordinated planning are the solution keys.

$3.7 Billion for NanoTechnology
For some people, NanoTech has been the "little" sidebar of the Life Sciences sector. Louis Hornyak and his team plan on changing that image. The Colorado Nano Technology Initiative suggests that this technology will change the face of humankind. They have some compelling facts. Count yourself in or you could be left out.



Your Planning Guide for 2004
This is the time of the year we should all finalize our goals & strategies for next year. Larry Nelson, president of the w3w3® Media Network recorded this powerful segment when living in Australia. It's a classic that can help you achieve Your "Ultimate Win"…Personal and Professional Satisfaction. Details & Direct Link to Pick up Your copy (It's FREE)




Used technology is not what Jared Polis was thinking about when he was building a successful Internet business. On his way to being the Chairman of the State Board of Education he saw a need to help under-served individuals and organizations with "refurbished" computers. Jared's Foundation has a plan, but C3 needs your help. VISIT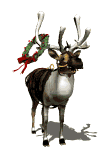 Year-end Thanks to You
While 2003 was okay for some, others experienced a rocky road and for some it was devastating. We also saw many making a difference and giving others a hand. We are proud to be part of the business & technology community in Colorado. We'll look forward to working with you in 2004. All the best, Larry, Pat & Jessica. Here are some winners
1-22-04


Robert Schwab, business editor for Colorado BIZ magazine teamed up with Larry & Pat Nelson of the w3w3® Media Network to get the latest update on NREL. Admiral Richard Truly, Director of the Department of Energy's National Renewable Energy Laboratory surprised everyone with his look at the present and view of the future.

LISTEN — part-2 LISTEN

.

Larry & Pat Nelson have met many people trying to build their business, and while they are technically competent, they lack the "people piece" of the success equation. LISTEN straight from the w3w3® Media Vault. (More information here)

LightSpeed Commercial Arts - Now that's a novel idea. But that is Michael Hamer's perspective on the work and the needs of his clients. When it's finally determined that a logo is needed, we usually realize the need retrospectively and want it done yesterday. Mike knows the drill. A "highly decorated" commercial artist, (that would be many award winning designs) Mike has some tips that will help you get the most out of your logo design which has a dramatic effect on your marketing efforts. LISTEN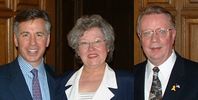 Appointed May 1st, this year to the office of president of Denver University, Marc Holtzman is listening, learning and making great strides. Chalk up a huge scholarship for honor students who are unfortunately undocumented aliens. Dan Ritchie knows how to pick a winner!

Governor's Technology Summit 2003


Summing It Up with Larry and Pat Nelson - w3w3® Media Network - took it all in from the comfort of their home. This year, the technology summit general session was web cast - with interaction from the far reaches of the newly networked state of Colorado. Grand Junction and Pueblo participated. Keynote speaker Scott McNealy, SUN was very interesting.

We caught up with

Robert Dutkowsky, of J.D. Edwards fame, along with Victor Chayet at the Denver Press Club. It was a riveting - straight talk - ask any thing on your mind - session with the past president and CEO of Colorado's largest tech company. But don't fret, Bob says now we have the second largest Software Company in the world right here in our own backyard. And some ideas about his future interests...
Can you imagine what homeland security and defense would look like if there was an absence of good ethical behavior?


Hamilton, Dr Murray , Director of the Center for Homeland Defense and Security at the University of Denver weighs in on this much talked about issue in the workplace, Corporate Ethics. LISTEN

Climbing the corporate ladder can be quite a trick especially when you include ethical behavior into the equation.


Dr James Davis, Dean of University College of the Denver University and prolific author gives some structure to this dicey issue. Simplicity is the key, as Dr Davis walks us through three steps for building ethical behavior.
802.11 Wireless Networks in the Enterprise, 8/14/03- Check out the Denver Telecom Professionals Conference with Harry Simpson, Roving Planet and Mac Agan, Intel Corporation. Then NRC, Tim Brown, CEO, is taking over the Colorado mountain air waves - locally owned and operated, NRC is growing! And what in the world is Julian Gallow doing now?
J.D.Edwards - Past, Present, Future


Dave Watts, Quest President

Bob Dutkowsky, Dynamic and likeable Chairman, President and CEO of J.D. Edwards the Colorado software giant tells 1000s of Customers, patners, employees and prospective clients what's ahead in the future.
Dave Watts, President of Quest (J.D.Edwards user Group) tells about the recent changes and direction of this multinational user group. And from Paris, we hear Craig Conway, President of PeopleSoft addressing the Quest 2003 Conference.


6/9/03 Health and the Internet
Dr. Arlen Meyers and his guest Dr. Ellie Greenberg, co-chairs of the Governor's Council for TeleHealth outline how online TeleHealth will improve access to health care while lowering costs and improving its quality.



6/2/03 Meet Paul Ray, Director of the Office of Life Sciences and Biotechnology in the Governor's Office of Innovation and Technology. We talked with Paul about Ethics. A new channel being launched at w3w3 Network.
Paul's candid, hard-hitting, straight forward responses will give you something to think about. His sincere take on an issue affecting so many is a look back at lessons learned and applications for today's success with ethical codes of conduct.

Betty Pierce
Secure Network Sys


Harry Smith
ISSA/Priva Plan


Harley Rinerson
State of Colorado


Larry Batten
ESRI

Betty Pierce moderates the Cyber Security Panel 5/1/2003
Cyber Security Super Bowl: You'll find these people amongst the experts coming in from around the country. Colorado is a leader and has answers the expertise sought. Listen and get a headstart protecting all that's important to you. The Q & A Session: Fundamental Principles
19th National Space Symposium
Gen. Ralph E. "Ed" Eberhart, USAF

Commander in Chief, NORAD and Commander,

United States Northern Command You can

listen

to the "chief guru" on Homeland Defense and you might find yourself inspired, motivated and better understand the "awe" in today's military.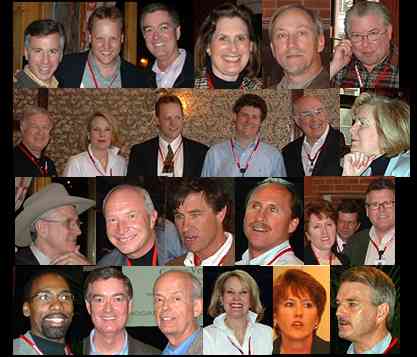 4/21/2003 Who's missing? Government, Higher education, Industry all
working at the Governor's Commission on Science & Technology Winter Retreat! See More
4/10/2003 Cyber Security - Time to Lock the Doors
Valerie McNevin, Director, Homeland Security, CTI
Dr. Bill Ayen , Director NISSC, CU-Colorado Springs
Robert Golightly, Chancellor, Colo. Technical Univ.
Chris Buechner, Special Agent/Cart Fe, FBI
Warren Lotzbire, Security Analyst, CU-Fort Collins
*NOTE: Gov. OWENS - Requires Shockwave Download + Slideshow 3/25/03


*Gov. Owens


Kevin Mitnick


Les Wyatt


Richard Clarke

3/25/03 Governor; Ethics; 2002 Score Card; Hacker Guru
Governor Bill Owens corrals his people to get high-tech input. Kevin Mitnick, king of the hackers is wearing a target on his back. Les Wyatt of JD Edwards fame says ethical behavior is deep-rooted (good & bad). Richard Clarke, one-time US cyber security chief tells us in "May 2002" what we must do to protect ourselves.
3/18/03 Catharine Merigold

- Bullish on Colorado Companies. $60 Million giveaway. Vista Ventures has that much new money to invest in Colorado companies, now! ALL NEW, Copyrights & Trademarks (IP Mistakes to Avoid) - Complete slide presentation with audio (28K Modem OK) with

Pat Perrin, Esq

. of

Hogan & Hartson

.

Erik Berg

of PriceWaterhouseCoopers reveals the high-tech financial forecast with a CTEK audience.

John Hansen

, CTO for Colorado attacks Cyber Security.

ALL NEW - Here's More of the Stories 3/10/03 Kevin Mitnick's Dark Side continues... details including his arrest. Parents, hard work and Texas Instruments honed the leadership skills of Les Wyatt of JD Edwards, Part 2. The knowledge factor is the value add many miss says Rob Reuteman, biz editor of the Rocky Mountain News. Betty Pierce of SNS gets a "cyber security question attack" at the w3w3® Live Studio Show .


Kevin Mitnick


Les Wyatt


Rob Reuteman


Betty Pierce

Kevin Mitnick


Les Wyatt


Rob Reuteman


You're Invited

3/3/03 Kevin Mitnick, the world's Number 1 Hacker spent 68 months in prison. Hear firsthand what he did to earn it. Les Wyatt of J.D.Edwards talks of challenges and choices in building a career. Rob Reuteman, business editor for the Rocky Mtn. News talks about the tug-of-war between virtue & vice. There's a limit, but you are invited to w3w3's first live. Radio Show Audience you'll hear about the Myths, Madness& Miracles of Cyber Security, and why you need to know all about Cyber Security!

S Keller-Bottom Innovent/Nokia


Arlen Meyers
TeleHealth


Dudley Finch
CU Boulder


Lu Cordova
Forecast Fair

2.24.03 Dudley Finch - communicating with "cells" (Not with al Qaeda, but deep-level biotech talk). Inside scoop on a new paradigm shift with Dr. Meyers on TeleHealth. Money for your new business from Nokia / Innovent... for real. Lu Cordova lays the Forecast on the line and you had better bite.. Guy Kawasaki did!

Guy Kawasaki


Wally Werner


Mike Reagan


Digital Waves


ICC


CTEK


RVC


MX Rocks

Guy Kawasaki,

Apple Fellow and founder of Garage.com started as a psych major.

Wally Werner,

cofounder,

BroadbandVideo

thinks now is a good time to start.

Michael Reagan, Vericept

says it can all be caught. Seek and you will find; listen and you will hear the latest, the best and the scariest.


3/6/03 Cyber Security Listen Now - Part 1 - Part 2 - Part 3
Feb 10, 2003: Jared Polis on Profile of a Leader looks and sounds like a million dollars plus. John Hansen, CTO for Colorado fills us in on Part 2 of Cyber Security in CO. Leadership & Management is Larry Nelson's topic on Beyond the Trends. Bob Dutkowsky relates Community to the Bottom-line. BroadbandVideo links up with w3w3® to reach a new level of effectiveness.


Rachel Yates, (Nov. 2002) attorney with Holland & Hart specializes in space law. So who cares about it? Anyone who understands how it will impact everyone on the planet... not just the big aerospace companies.
...They have all been guests on w3w3® Internet Talk Radio.