Over 1000 Attendees
The Rocky Mountain Oracle Users Group (RMOUG) was established in 1984 with just a few members. Meetings were held twice-a-year to share ideas and information about Oracle. Today, RMOUG is one of the largest Oracle user groups in the world with over 1,400 members.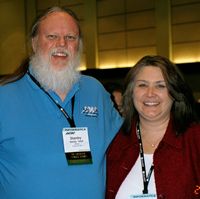 Current President, (Stanley Yellott and Conference Chair, Elizabeth Boss) RMOUG offers general membership meetings, a professional newsletter, an annual training event, and an information-packed World Wide Web site. Members include professional analysts, project managers, database administrators, developers, and designers who work with Oracle products to produce high-quality business solutions. RMOUG is an alliance partner with the International Oracle Users Group - Americas. RMOUG is a not-for-profit organization incorporated in Colorado.
Rocky Mountain Oracle User Group - Training Days 2002 - Feb. 20-21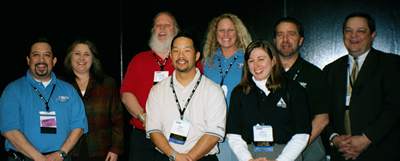 Board Members from left: Rich Baca, Elizabeth Boss, Stanley Yellott, Rick Hata,
Allison Leech, Debra Addeo, Bill Schwartzkopf, Don Filkins
Training Days is the largest and one of the most comprehensive regional Oracle user conferences in the country. The two-day event, sponsored by the Rocky Mountain Oracle Users Group (RMOUG), combines excellent technical sessions presented by experts in the field with time devoted to discussions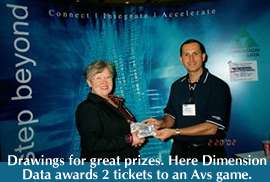 with vendors.
Who Attends Training Days? More than 1,000 Oracle DBAs, system analysts, technical managers, and developers attend RMOUG Training Days every year. As a vendor, you will meet

decision makers and staff who recommend products and services to their companies. This is the number: one Oracle event in the Rocky Mountain region. Companies that use Oracle budget Training Days as part of their annual staff education plan, and consultants and trainers who specialize in Oracle would not miss Training Days. The price is right, the technical sessions are outstanding, and the networking opportunities cannot be beat.


O'Reilly represented by Softpro Books was there too! More to come...
INTERVIEWS Listen Now:



Clayton Baucom, SofTec
Kirk Cohen, Ciber
Michael Cushman, AlignIT
Mike Del Toro, Dimension Data
Loring Fenn, Legato
Rick Hata, Dimension Data
Steve Lemme, Computer Assoc.
Steve Lemme, Oracle Announce
Matt McAdams, Senware
Mark P. Molnar, Mode
Kevin Runner, Runner Tech.
Justin Wade, American Mgmt



Contact Information
Rocky Mtn Oracle Users Group
P.O. Box 621942
Littleton, CO 80162
(303) 333-9242