Vets - Entrepreneurial Scholarships Provided by: The SBDC of

Colorado and Veterans Corp
NEW 5/26/05
Here's a great program that honors and supports our veterans. Kelly Manning, State director for the SBDC of Colorado's OEDIT, is launching on Memorial Day the Vet's Biz Builder Program in five Colorado cities and soon in five states.
- Listen to Kelly NOW -
Email
Kelly for more
Information & Free Subscription

Intentional vs. Reactive is the Hidden Economic Challenge
3/21/05
-
Brian Vogt
Director of Colorado's Office of Economic Development and International Trade is concerned. Some people are fearful in their resolve to move forward. As a result, instead of being intentional and farsighted, they will become reactive. The audience at
AeA's annual "Luncheon with the Legislators"
heard Brian's 5-point plan.
LISTEN

Colorado, Portal Authority, eGovernment and MNT
Governor Bill Owens at the Colorado Technology Summit signed senate Bill #244. Leroy Williams, Secretary of Technology and CIO for Colorado and his team have been working on its implementation and execution quite diligently. In 2005 we should see a number of new & exciting things in CO's eGovernment.



Dream Destination vs. Budget Challenges 10/25/04
Speaking of economic development, Colorado ranks among the top 5 "dream destinations" in the US points out Governor Bill Owens. Many of us take this for granted, but when we consider our visitors spent over $7 Billion in 2003, tourism stands out in the crowd in many economic ways. Challenges and Choices.


Brian Vogt Celebrates Business Communication


Governor Bill Owens kicked off the meeting where Brian Vogt (Director at the Office of Economic Development & International Trade) and his team (including Drew Bolin, Alice Kotrlik, Kim McNulty, Chris Shapard, Ilene Yokoyama-Reed, Laurel Alpert & Kelly Manning) announce an exciting communication initiative.


Advance Colorado – What's Up with All the Buzz
There are many heavy-hitters attending this year's eBall. There's top-shelf networking and this year the State of Colorado Office of Economic Development and International Trade are making some brief but awesome announcements. Brian Vogt, the director will be unveiling a really cool video. We'll be there.


Big Things are Happening at Colorado's OED
The next six months for the Office of Economic Development and International Trade in Colorado are packed with initiatives from every single sector at OED. Brian Vogt also holds a Cabinet position in Governor Bills Owens administration. He has a great deal of confidence in his team and is working with other organizations. (Part 2 of 2)
Gallup Survey Shows Americans Support New Plan For Space Exploration - Read More Here


Economic Development – Outreach to Biz?
Brian Vogt , Director for the Office of Economic Development and International Trade for Colorado is in Governor Bill Owens' Cabinet. Brian talks about the priorities of his team. They are; developing a Culture of Business, Communication that informs and impacts the public-at-large, and full Integration.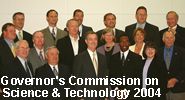 Three audio clips and photos from the Governor's Technology Summit
-Governor Bill Owens talks about the good, the bad & the options
-Dick Notebaert talks about major Qwest changes including VoIP
-Both the Governor & Notebaert field a variety of dicey questions

Gov. Owens Commission on Science & Technology
Governor Bill Owens, introduced by Marc Holtzman spoke about the lay of the land for Colorado. Leroy Williams, Secretary of Technology hosted this year's first Commission session and had other heavy-hitters address the high-profile group. The Governor has some high-impact plans.


Federal Reserve Looks at the Deficit + New Insights
Dr. Michael Cox, senior vice president & chief economist of the Federal Reserve of Dallas shed some new if not controversial light on the growing national deficit and outlined what we need for a proper recovery. Governor Bill Owens joined Dr. Cox, for a lively and surprising Q & A session. 5/2004


Leroy Williams Named Colorado Secretary of Technology
Colorado Gov. Bill Owens named Leroy Williams Jr. of Aurora, currently state chief information officer (CIO) to the post of secretary of technology, replacing John Hansen, who resigned to rejoin the private sector. Williams will continue as state CIO. News Release Dec 30 2003




Summing It Up with Larry and Pat Nelson - w3w3® Media Network - took it all in from the comfort of their home. This year, the technology summit general session was web cast - with interaction from the far reaches of the newly networked state of Colorado. Grand Junction and Pueblo participated. Keynote speaker Scott McNealy, SUN was very interesting.



CRITICAL Download Patch for the Newest Attack
AmberAlertNet
Download Your Copy
of this extraordinary
gift developed by Webroot
Remember you could
Save a Child's Life!