Profile of An Industry Leader, Meet Jerry Golley, Founder and CEO of AMI Visions...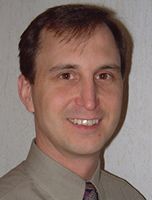 There are some people who have it made since day one. Others overcome hardships and build the American dream. Jerry Golley did all that, in spite of his bout with leukemia. Jerry attributes his people and his partners with the success of AMI Visions. But there is more to the story.
When only five years old, AMI proved to be a prodigy, twice listed as a Denver Business Journal's fastest growing privately held company (placing second in 1996-1998) and as the Denver Metro Chamber of Commerce's Emerging Business of the Year in 1999.
In its first time named to the Deloitte & Touche's Colorado Technology Fast 50, AMI Visions ranks fourth with a growth rate of "4713 percent" in the last five years. AMI's 4,173% growth makes it Colorado's FOURTH fastest growing company, 130th fastest in America!
Many of our w3w3 Talk Radio listeners have wondered, "What kind of leadership does it take to build and manage a company with such a record?" Is it a breakthrough product? Is it timing, luck and just being in the right place at the right time?

Contact Info
198 Union Blvd., Suite 201
Lakewood, CO 80228
Call: 303.980.4500
info@amivisions.com
www.amivisions.com