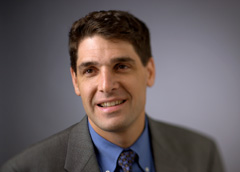 Paul Berberian, Co-founder, President and CEO An expert in network development and multimedia applications, Paul is responsible for developing Raindance' vision for using multimedia technologies and the Internet to enhance business communications. Paul co-founded LINK-VTC in 1993. Under his guidance as president, LINK-VTC was sold to ConferTech International in 1995, for $16 million. Upon the sale of LINK-VTC, Paul became director of a new ConferTech division called ConferLink, where he created the next generation of information systems. Paul is a 1989 Distinguished Graduate of the U.S. Air Force Academy, where he received his BA in Management.
Over the past year, the current state of the economy coupled with recent world events have prompted companies of all sizes to seek tools to help streamline operations and cut costs, while increasing overall workplace productivity. To save money on travel and increase efficiency, companies are quickly turning to web conferencing vendors to provide effective and high quality business communication solutions via audio and web capabilities. As such, web conferencing tools are helping to reshape the way businesses conduct meetings and provide training and communications with customers and partners.
In fact, according to a recent study conducted by Wainhouse Research, the audio, video and web conferencing market will grow from $3.6 billion in 2001 to $9.8 billion in 2006. Although still a fairly young sector, the rapidly growing adoption of Web conferencing services indicates that the industry will continue to soar well into the future.
In this interview, Paul Berberian, CEO of Raindance Communications - a Louisville, Colorado-based company at the forefront of the burgeoning Web and audio conferencing industry sector - will examine Web conferencing and explore how, more than phone, fax and even email, Web conferencing and collaboration technologies are becoming he next evolution of essential business communications, transforming the way the business world conducts day-to-day meetings.
PROFILE of a LEADER
Paul Berberian, CEO
Raindance Communications
LISTEN: REAL One or MS MediaPlayer
CONTACT Information:
Raindance Communications
1157 Century Drive
Louisville, CO 80027
Telephone: 303.928-2962
Facsimile: 303.928-2832
www.Raindance.com