185_
Internet Protocol Duels with the Cable Industry
For some, it's a big whirlwind of change creating chaos and a cry for regulations from others.
Phil Weiser
, Executive Director,
Silicon Flatirons Telecommunications Program
points out the regulation can be a double-edged sword. It allows competition and therefore encourages innovation. On the other hand, intellectual property issues can slow things down and eventually will cost the consumer time and money. Other dicey issues that impact consumers and industry will soon be regulated; for better or for worse. >
LISTEN
10/02/06
135_
Intelligent Emergency Network, Next Generation 9-1-1
Developed 30 years ago, we have outgrown the current 911 technology.
Intrado
, a global provider of emergency communications infrastructure and services is now building the next generation of 9-1-1. Cofounder and CTO of Longmont based Intrado,
Stephen Meer
's history includes being a first responder. In addition to his career, Stephen has a great deal of interest in our youth as it relates to science and math interests. Here's a Colorado success story.>
LISTEN
5/15/06 Part 1 of 2
137_
Delivering Solutions While Avoiding Info Overload a Key to Success
Meaningful solutions is an Intrado mantra. Years ago Intrado introduced the concept of using the incident command system in public safety.
Stephen Meer
points out that the challenge is inner operability. Whether it's the tragedies at Columbine, Katrina or the World Trade Center, Stephen says it is much more than just the communication. It's about getting the right information, to the right people in the right time. Using the tools on a daily basis and distilling down to meaningful solutions are the keys.>
LISTEN
5/22/06 Part 2 of 2
121_
Wireless - Could be the Remote Control of Your Life
Wow, there are some industries that are really the talk of the town. That would be wireless and all the new things coming down the pipe.
Vipanj Patel
, Managing Partner of
iSherpa Capital
just returned from
CTIA
, a huge wireless trade show and had lots to talk about. There was a great deal of excitement and enthusiasm as Vipanj shared some trends that are already upon us. >
LISTEN
4/17/06
122_
Colorado Portfolio Companies, a Look to the Future
Vipanj Patel,
Managing Partner of
iSherpa Capital
sees that the size of new deals increasing and it's not just in continuing investments in current portfolio companies. Vipanj is very excited about a couple iSherpa portfolio companies in Colorado. He sees the venture capital market as very healthy and growing. Other 'biggies' are making moves in the wireless arena.
Part 2 of 2
. >
LISTEN 4/17/06
Challenges and Choices for Denver Telecom 2/27/2006
After an eight-year rollercoaster ride the Telecom industry is redefining itself. Kelly Zunker, President of Denver Telecom professionals is happy to report that the telecom industry is solid and is changing and adapting at record pace. With new tech- nologies like VoIP, WIFI, IP TV and others, a common question is, "How will the old traditional companies fit in?" Kelly answers this and more. LISTEN
Related Links: Denver Telecom Professionals Home page - Genesys Lab -
2005 DTP Telecom Executive of the Year Award - Photos Page 1 - Page 2
Innovation, Communication Increasing
Pace of Change
3/27/2006.
LISTEN
Phil Weiser
, Silicon Flatirons drills
Jim Crowe
, Level3 CEO after his luncheon keynote address. The audience also asked some tough questions. Jim had a great deal to say about regulation in the Internet space. He feels that the entrepreneurs are the backbone of innovation. As in the past, regulation tends to entrench the current - not encourage alternatives and is not a friend of innovation.
Powell, Information Overload and 25,000 iTunes
"Our chilren are not motivated by pay, but by fear of failure", said Michael Powell, past Chairman of the FCC. He had a very interesting Q and A with Phil Weiser, Executive Director of the Silicon Flatirons Telecommunications Program. Powell shares very interesting statistics, everything form rural area challenges, the exploding abundance of TV to how broken Washington is. LISTEN 3/06/2006
Related Links: Silicon Flatirons || Digital Crossroads || Denver Telecom Professionals Channel || Conference Photos
Challenges and Recommendations for FCC 2/27/2006
"To prevent something that might happen is a very hazardous philosophy," said Michael Powell, past Chairman of the FCC. He went onto point out in an open discussion with Phil Weiser, Executive Director of the Silicon Flatirons Telecommunications Program that government has to have a high-bar to justify intervention in the marketplace. Powell shares his very strong opinions. LISTEN
Related Links: Silicon Flatirons || Digital Crossroads || Denver Telecom Professionals Channel
VoIP Challenges: e911, FCC, Net Neutrality
It was a break-out year for Vonage. Brooke Schulz, VP of Corporate Communications reported a customer gain this past year from 400,000 to 1.2 million. Vonage has a partnership with Level 3 to better deal with the e911 challenge. The biggest challenge revolves around the issue of Net Neutrality. In simple terms, it means the Internet keeps working like it works today. Not all want that.. LISTEN - 1.2.2006


Here are some related links to check out: Vonage Home Page; Denver TelePros Home Page; Telecom Channel




TeleCom Opportunities and Wireless Denver
"New generation service providers are beyond cable and satellite. New technologies include 802.11, WIMAX, VoIP, IP Video, IP TV and a growing list of technologies," points out Gary Gaessler, of Trillion and founder of Denver Telecom Pros. Sue Wyman, of Jivaro Group and Prez of the Denver TeleCom Pros adds Healthcare, Security Government and Professional Services to the opportunity list. LISTEN 8/08/05

New Media Totally Reshapes the Political Arena 9/19/05
They certainly let their hair down at this Silicon Flatirons event. What happened with the new media during the last presidential election will surprise you. Phil Weiser, SFTP moderated this second high-powered panel: Melissa Boasberg; Jim Carpenter; John Gastil; David Skaggs. LISTEN.


The End of Politics - As We Knew IT? This fascinating and informative program examined the Internet and its impact on Political Participation. Phil Weiser, SFTP moderated this high-powered panel: Dan Gillmor, Grassroots Media; Rolland Johnson, Three Eagles Communication; James Morgese, Rocky Mountain PBS; Joe Waz, Comcast. Listen and Learn.

9/12/05





FCC Regulations: Standards, Neutrality, VoIP

9/6/05


Regulations are going to be imposed on the Internet explains, Phil Weiser, Exec. Director, (SFTP) Silicon Flatirons Telecommunications Program, as he kicks off the Lunch and Learn Series for Denver Telecom Professionals. Some of the current challenges for VoIP providers are providing E911 service that works. Network neutrality is a key concern as it will allow and promote innovative ideas of those that want to develop applications for the Internet. LISTEN



The Political System is Changing + Internet 8/29/05
Unless one has lived in a vacuum this past year, you cannot help but notice how the Internet has impacted politics. It is a major transforming force explains Phil Weiser, Exec. Director, Silicon Flatirons Telecommunications Program. Everyone is concerned about the delivery of information with many issues on the horizon including Telco regulations, 3rd broadband pipe, wireless, etc. LISTEN



Getting Buy-in for VoIP + User Education 8/29/05 DTP Lunch & Learn
TDM and PBX systems have come to terms with flipping over to IP. Chris Johnson, Consulting Systems Engineer for Cisco confirms that initially the migration was due to cost savings and points out that now increased productivity is becoming an important part of the decision mix. User mobility, plug-in call centers and unified messaging are some of the requirements asked for today. LISTEN



Critical Questions and Choices + VoIP
8/15/05
The VoIP early adopters in the early 1990s were dreamers interested in saving money, but didn't really understand what was going to unfold in the next 10 years. The fact is, and as exciting as VoIP is today, most don't understand what is yet to come. But the real challenges are the "10 Critical Questions to Ask Before Launching into VoIP," says
Tim Bradley
of
New Global Telecom
.
LISTEN Part 1 of 2


VoIP is Here to Stay, but Some Won't Make It 8/22/05

There are always challenges for early adopters and VoIP pioneers are no exception. DTP Lunch & Learn Series The doomsayers are backing off some, but the winners and losers are yet to be chosen. In this part 2 of 2, Tim Bradley of New Global Telecom, details the last eight of the "10 Critical Questions to Ask Before Launching into VoIP." Tim hits it straightforward, with good business lessons for all.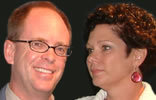 Communication, Entertainment + Telecom 8/15/0

Gary Gaessler of Trillion, founder of Denver Telecom Pros and Sue Wyman, of Jivaro Group, president of the Denver TeleCom Pros are excited about the future of Telecom but are concerned with the negative connotation of the word "telecom" as a result of the challenging years gone by. Don't be fooled, Telecom is not only here to stay but will soon be one of the fastest growing sectors.


TeleCom Opportunities and Wireless Denver
"New generation service providers are beyond cable and satellite. New technologies include 802.11, WIMAX, VoIP, IP Video, IP TV and a growing list of technologies," points out Gary Gaessler, of Trillion and founder of Denver Telecom Pros. Sue Wyman, of Jivaro Group and Prez of the Denver TeleCom Pros adds Healthcare, Security Government and Professional Services to the opportunity list. LISTEN 8/08/05
Here's What it Will Take to Make it in Telecom - LISTEN
If you are wondering, "Does focusing on the fundamentals work?" W onder no more . Larissa Herda , CEO of Time Warner Telecom since 1998, has experienced the telecom roller coaster, and has stayed the coarse. She shares thoughts on the fundamentals, disruptive technology and listening to your customers.

2/7/2005

PHOTOS || Related Links: DTP Home Page - DTP Channel - Photos of 2004 Awards - 2005 Award Program Details

Does the Telecom Industry Have Legs?

- 6/20/05


The challenges of the last five years are now being met with convergence and consolidation. Some wonder how others can be so passionate about telecom after the "bursting of the bubble".

Gary

Gaessler

(founder and past president of DTP) and

PART 1 Sue Wyman (current president of DTP and this is her 3rd stint as prez) talk about what's hot and what to expect in the next 18 months. Part 2 of 2 LISTEN

Companies are being Forced to Deal with IP Protocol
The new world of telecommunications is exciting but challenging suggests Phil Weiser, co-author of Digital Crossroads: America's Telecommunications Policy in the Internet Age. The fundamental drivers are broadband-based IP connections and mobility IP connections and they are also the biggest challenges. 3/28/05
There's a Big Reward for Offering E911 for VoIP Customers
Phil Weiser, co-author of "Digital Crossroads: America's Telecommunications Policy in the Internet Age" points out that businesses are going to get very excited about the new ways of doing business using VoIP. There are some dicey issues to be resolved such as security and spit (VoIP's version of spam).

LISTEN

4/11/2005

Upcoming Events
Denver Telecom Professionals
presents a
Lunch 'n' Learn
lecture series:
11:30am - 1:00pm
Session 1:
Wed Apr 26th
Homeland Security
Risk Assessment for Colorado
Session 2:
Wed May 3rd
Critical Infrastructures
Session 3:
Wed May 10th
Business Contingency Planning
Get DETAILS