Profile of a Leader
Would the "real" Marc Holtzman please rise!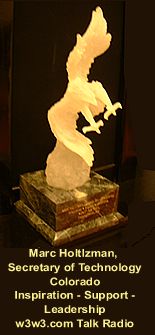 Marc Holtzman serves in the Cabinet of Governor Bill Owens as Colorado's first Secretary of Technology. Everyone in high-tech in Colorado knows him. Governor Bill Owens hand selected him for the position, Secretary of the Governor's Office of Innovation and Technology (OIT).That's one of two in the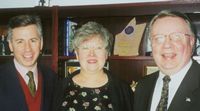 entire nation. It's hard for anyone to be paid less, and his team (he said he couldn't express how much he depends on his team) has a hard time keeping up with him (as it turns out, that's a team quote).

We all know Marc Holtzman, or do we? Like all leaders he is determined, focused and driven to do what ever is necessary to continually raise the bar for Colorado's technology community while maintaining our quality of life.

There's more to Secretary Holtzman then what we see and hear in the media…and even there you'll hear accolades. Listen to Larry and Pat Nelson of w3w3 Talk Radio ask some very personal and probing questions about his background and the people and things in his environment that made him what he is…just when you thought you knew the guy.

...And when you realize you need to know more about this man (he has been there, and done that with more than the proverbial T-shirt to prove it) and his remarkable team, go to www.oit.state.co.us/about/holtzman.asp

In the meantime, we'll try to keep up with him. As we round up more of his team we'll add their photos to this site too!



Feature Interviews
Marc Holtzman


The First Four Years
The last four years were marked with challenges, choices and change. How did the winners deal with the market tumble and the 9/11 tragedy? What have we learned and what foundational pieces can we capitalize on? More on the Holtzman Report

Colorado Market Expectations and More 8/7/02
-
Marc Holtzman
, Secretary of Technology and Chairman of Colorado's Information Management Commission and Co-Chairman of the Governor's Commission on Science and Technology gives us more than a report. He reviews, but more importantly gives us his expectations for the coming months regarding Colorado's Capital Markets, CTA, CIT and the Aerospace Advocate's office. Get it first-hand here in this exclusive w3w3 interview.

Aerospace & Colorado's Future
What it means to you and me, and the fierce competition for this industry and all that it will bring to the state. 05/17/2002




3/27/02 High Tech High School
March, 2002 Details of Winter Retreat
Governors Commission on Science & Technology



February 26, 2002 Keynote
Internet Chamber of Commerce
Taking the "Pulse of Denver Technology Industry"