Colorado company raises $490 million in 2010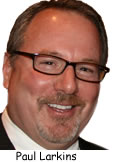 923_ 11/8/10- At a recent ACG Denver monthly luncheon, Larry interviewed the keynote speaker, Paul Larkins, President & CEO, Square Two Financial. Paul gave an overview of the company. "Square Two is a leader in the distressed asset management business. We are a firm that acquires distressed assets from financial services organizations and then works to bring those assets, as we say, back to black. So we are acquiring red assets that have been charged off by a major bank or major financial services organization. And they are challenged with what to do with that asset so they technically still own the asset but they have no earnings from the asset and they've charged it off. In the banking world, that's often a regulatory challenge for them because regulators are asking them why they're spending time focused on assets that are no longer earning for them. So we acquire those assets and we are unique in that we evaluate and then distribute those assets to a proprietary group of 35 franchised law firms across the U.S. Those law firms work with the debtors, so the ultimate debtor (consumer or commercial entity) that has not paid on their debt, the law firm is working with them to rectify the debt and return that asset to back to black. Larry asked, ""Since you joined Square Two Financial, things have really come along. What are some of the major changes, these past two years?" Paul replied, "Well I looked at the organization and the leadership team and realized we had some gaps. I have brought in a number of professionals to fill in critical gaps in the organization to help us reposition the organization in the market place, and ultimately to position us to raise capital. So those professionals supplemented the leadership team that I had in place, some very strong professionals. That was the first big thing that we did. If I were to pick out two others, we rebranded and repositioned the company in the market place. So we evaluated with our employees and our constituents which are our franchise partners, we evaluated how they think of us and we realized they didn't understand us. So we went through a fairly expensive process of identifying our core value system and what we do extraordinarily well, and we also rebranded and repositioned the company in the market. The other big event, with all of this in place, we went to Wall Street and recapitalized the company. So we raised about $490 million in capital."
Related Links: Square Two Financial || ACG Denver Home || ACG Denver M&A Channel || Event Photos || Podcasting Directory || Keywords: Paul Larkin, Square Two Financial, Association for Corporate Growth Denver, ACG , Distressed Assets, M&A, Leadership, Rebrand, Positioning, Capitalization - 11/8/10 bytes: 4225779 Listen to: Paul Larkins, President & CEO, Square Two Financial

Powered by Podbean.com
Going from tough times to winning times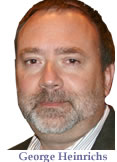 907_ 10/11/10- We're at the ACG Denver October luncheon with Chet Marino, Verus Partners and today's keynote speaker, George Heinrichs, cofounder and president of Intrado. Larry asked for an off the cuff piece of advice for our listening audience, in this economic environment. George said, "Well I suppose cash is king, is the simple truth. But I suspect they all get that. I saw something recently on Ted.com that I thought was just stunning. It was a lecture by a guy named Simon Sinek, talking about what people buy. He talks about people don't buy what you do, they buy why you do it. At least at our company, Intrado, where we provide the infrastructure for 911 - we make 911 work across North America - our employees are there because they believe they're making a difference. That's the 'why' and I think it makes a huge difference with our customers. I think Simon Sinek is on to something very real." Chet asked, "How do you keep your employees engaged in the business enterprise?" George replied, "Keeping your employees engaged is about, first of all listening to your employees so they know that what they're doing makes a difference inside, they're being heard. Secondarily, we focus very heavily on promoting from within so that there is recognition for those that really contribute in the form of either vertical advancement within the company. Or if they are an individual contributor, we actually have a separate track. People who are great technicians are not necessarily great managers and we provide tracks for each of those sort of focus points. Intrado is a global provider of emergency communications infrastructure and services. A recognized emergency services expert, Mr. Heinrichs has played a key role in the evolution of the nation's 9-1-1 network...His parting words of advice for entrepreneurs was, "Don't give up! It takes longer and costs more than you could possibly imagine, and it's people who give up who lose." Listen now...
Related Links: Intrado || ACG Denver Home || ACG Denver Events || Cross Networking Event || M&A Channel || Keywords: George Heinrichs, Intrado, ACG Denver, Chet Marino, 9-1-1 Network, Entrepreneurs, - 10/11/10 bytes: 2875666
Listen to: George Heinrichs,President. Intrado

Powered by Podbean.com
853_ 6/7/10 - Backbone of our job growth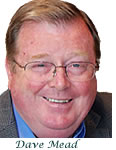 "We like to get involved in a few activities, but we get deeply involved, and especially in activities where we can really make a difference," said David Mead. David formed the Mead Consulting Group in 1981, in addition to that he is past president, chairman and still a board member of the Association for Corporate Growth Denver. "We're talking about this program called 'Colorado Companies to Watch', you're a platinum sponsor and really involved." Dave said, "We like to get involved in a few activities, but we get deeply involved, and especially in activities where we can really make a difference. Colorado Companies to Watch is kind of the answer to something I've been passionate about for well over 30 years and that is, helping Colorado companies grow. In 2008 in the State of Colorado, the companies that comprised the 'Colorado Companies to Watch', which are basically companies from about $750,000 to $50 million in revenue... So the number of companies were 14% of the total number of companies in the state, yet those companies added 40% of the total job growth. This is a very important segment of Colorado's economy and it's one that often is overlooked in the desire to go after large corporations. They get a lot of press, but it's really these niche companies that are the backbone of Colorado and certainly the backbone of our job growth. Larry and Pat will be at their Gala Event on June 18th and are expecting close to 800 people. After the gala, there are a number of events throughout the year for these companies so they can continue to build awareness, continue with education, and they can continue to build the relationships that will be necessary for them to move to the next level.
Related Links: Colorado Companies to Watch || Gala Event || Mead Consulting Group || M&A Channel || ACG Denver || CCTW Channel/w3w3.com || Dave Mead Blog || Keywords: David Mead, Colorado Companies to Watch, Mead Consulting Group, Edward Lowe Foundation, Mid-sized Companies, CCTW - 6/7/10 Chnl: Colorado Companies to Watch bytes: 3895382 Listen to: Dave Mead - Mead Consulting Group

Powered by Podbean.com
838_ 5/10/10 - Turning $3000 into a Billion dollar company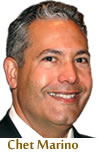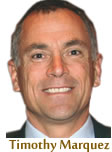 "When I first started it took almost two years before we had our first dollar of revenue come in. Too many people expect to get rich quick and have everything work right off the bat. It rarely works that way so it's just a matter of plugging away. I'm not the brightest guy out there but I'm hard working and I'm persistent. I think that's a very valuable asset looking back," said Timothy M. Marquez, Founder & CEO, Venoco. Chet Marino, chairman of the ACG Denver programming committee brings another great speaker for the monthly ACG luncheon meeting. Venoco is a public energy company headquartered in Denver. Founded in 1992, Venoco was one of the fastest growing independent oil & gas producers in the United States with operations in Texas and California. Revenues this year are expected to exceed $300M. The company progressed from a startup with an initial equity stake of $3,000 to a company with a total enterprise value of more than $1B prior to going public in 2006. When asked what advice he would give today for entrepreneurs he said, "This may be a hard time to start, although our business slid through without much of an issue, the oil and gas prices stayed pretty strong. I think now is the time for persistence and tenacity, more than ever. But stick with it, things will get better and then you know, tough times create great opportunities. Tim gave an overview of what Venoco focuses on. "This may be a hard time to start, although our business slid through without much of an issue, the oil and gas prices stayed pretty strong. I think now is the time for persistence and tenacity, more than ever. But stick with it, things will get better and then you know, tough times create great opportunities. Last year, he was named as one of the 50 Most Powerful Hispanics in the U.S.
Related Links: Venoco Home || ACG Channel || ACG Denver || ACG Denver Event Photos || Podcast Directory || Keywords: Tim Marquez, Venoco, ACG, Oil, Gas, Public Energy Company, Association of Corporate Growth, Persistence, Vision 5/10/10 Chnl: ACG bytes: 2795418 Listen to: Timothy M. Marquez, CEO, Venoco, Inc.

Powered by Podbean.com
825_ 4/19/10 - Global economy and your business


The ACG Denver, keynote speaker for April was Jerre Stead, the President and CEO for IHS, Inc. IHS is a 50 year old company that went public four and a-half years ago. They are the largest provider of critical information and insight, in the world, for four domains, with the largest of those four domains being energy. They do business in 192 countries and have people in 30 countries around the world. Larry interviewed him at the luncheon and was very impressed with his focus on people. We talked about the recent economic environment and Jerre said, "We saw this coming, which was helpful for us. I think clearly this change confirms, once and for all, that we truly are a global society and a global economy. So, we always need to keep that thought in mind. Reach out to the future, set goals for the future. Be patient and work backwards from those. Don't get caught in this very short term world we tend to live in. At the end of the day, people are the only sustainable competitive advantage that an organization has. People, by the way, are your customers and your colleagues, so focus on them." When asked what advice he had for entrepreneurs he replied, "Stay very focused. Don't do more than two or three things at once; Make sure you've laid out a very clean plan of where you're going to go and how you're going to get there. But focus, focus, focus. Jerre's focus is clearly trained on people and the future! There's more...
Related Links: IHS || ACG Denver Home || ACG Denver Events || M&A Channel || Keywords: Jerre Stead, IHS, People, ACG Denver, Economic Environment, Global Society, Global Economy, Entrepreneurs 4/19/10 bytes: 2375996 Chnl: ACG > LISTEN to Jerre Stead, CEO, IHS Inc.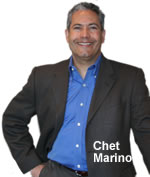 817_ 4/5/10 - Celebrating leaders in and around this community


At w3w3.com one of our favorite activities is celebrating the leaders in and around this community. ACG Denver has recently named Chet Marino as their 'Member of the Year'. That's quite an achievement in an organization that is loaded with great and talented people volunteering so much expertise. Chet lead the programs for ACG in Denver which involves primarily hiring the speakers for the monthly luncheons as well as the speakers for all the corporate executive events. Chet is the founder of Verus Partners a retained search business of 20 years as well as managing the ACG programs. We just came off a fabulous ACG-Denver Corporate Growth Conference, the networking was magnificent, the programs, the speakers were world class. Because of Chet's experiences and connections Larry asked, "Advice you would give today in these economic times?" "Even though we've been through a fairly difficult time in the last year, year-and-a-half, my advice to business leaders and business owners, would be to stick to your strategic plan and rely on your people. Fundamentally it is the management team and their skill and talent that enables you to produce results. We're now at the end of the first quarter, this is a tremendous time to evaluate the success of your team, and to ask yourself if they're aligned with your business strategy and able to supply results for your business goals. The team is instrumental in realizing goals as a company and your ability to survive a downturn, so I would recommend surrounding yourself with great people. From the CEOs I've talked with recently, their ability to thrive and survive in this downturn is directly related to the quality of the people around them."...listen now...
Related Links: ACG Denver Home || Verus Partners Home || ACG Denver Events || M&A Channel || Keywords: Chet Marino, ACG-Denver, Corporate Growth Conference, Verus Partners, Business Leaders, Business Owners, Management Team - 4/5/10 bytes: 6388091 Chnl: ACG LISTEN to Chet Marino, CEO, Verus Partners - ACG Member of the Year

821_ 4/12/10 - Leadership: It's all about the people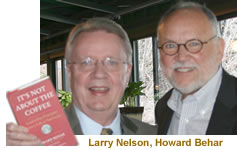 At the ACG-Denver, Corporate Growth Conference, keynote speaker Howard Behar, Past President of Starbucks, North America and Starbucks International, and author of "It's Not About the Coffee", received a heartfelt standing ovation - his message hit home!. Howard started by saying, "It's Not About the Coffee" begs the question, If it's not about the coffee, what's it about? After 21 years at Starbucks, you begin to learn it's all about the people. The coffee was our art, our music, it's where our creativity came out, but at the end of the day Starbucks is not about the coffee, it's about the people." Larry asked him to explain. Howard continued with, "We start to believe that the things we do are what we're about. But, everything we do is about serving another human being in one form or another. If you're making a widget and that widget goes into a printing press, and it prints magazines and somebody reads it and they get knowledge from it or joy from it, it's about serving people, and I think we forget that. We think that the business we're in or the things that we do is what it's about - and it's not!" When Howard says "It's not about the coffee" he means that, it's about the people and the coffee's got to be great! "And at Starbucks we love our coffee." Howard goes onto explain his three core principles. "The first principle is about wearing one hat. I'm talking about the hat that is reflective of who we are as a human being. What are our values? What is our mission in life? What do I want to leave behind? What are our goals? It's about who we are. The 2nd is, 'The person who sweeps the floor should choose the broom.' The 3rd is "Care like you really mean it. When you say those words, I Care, that comes with a price. The price is you gotta step-up when called upon." ...listen for more detail...
Related Links: ACG Denver Home || Howard Behar Home || ACG Denver Events || M&A Channel || ACG Denver CGC Event || Keywords: Howard Behar, Starbucks, It's Not About The Coffee, ACG-Denver, Corporate Growth Conference, Business Leaders, People, 4/12/10 bytes: 4067477 > Chnl: ACG LISTEN To: Howard Behar, Past President, Starbucks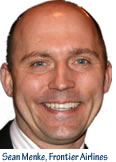 Today's economy and the airline industry 788_ FEB 8/2010


"Today's economic environment has had a major impact on the airline industry. Not only from a cost structure perspective, but because of fuel going up, the slowdown in the economy, we've seen weakening in the demand and if you look at the industry, industry revenues are actually down about 10 percent, that's a significant amount of the market place in just one year," said Sean Menke who is most recently the CEO and President of Frontier Airlines. Chet Marino, Programming for ACG Denver, introduces Sean and goes onto point out, "Sean navigated this entire company through one of the most difficult times in the history of the airline business. Frontier Airlines just came out of bankruptcy, there was an auction process with two parties involved, Southwest Airlines and Republic Airways. At the end of the day, Republic Airways was the successor in the process and with that Sean joined the organization as the executive vice president and chief marketing officer, so he actually oversees the two branded airlines that Republic owns, Frontier Airlines and Midwest Airlines based out of Milwaukee, Wisconsin." Larry asked Sean what he saw coming down the road for the industry. "I think the entire market place has changed and I mean business market place. Travel budgets are down, people aren't spending as much and we're seeing that in the airlines that leisure travel is actually pretty strong, but..." Listen for more...
Related Links: Frontier Airlines || ACG Denver || ACG Monthly Luncheon || M&A Channel || Rocky Mountain Corporate Growth Conference || Keywords: Sean Menke, Frontier Airlines, Midwest Airlines, Republic, Association of Corporate Growth, ACG, Rocky Mountain Corporate Growth Conference, > bytes: 4585732 Chnl: ACG - 2/8/10 LISTEN to Sean Menke, CEO and President, Frontier Airlines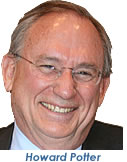 The differences between networking and cross-networking


896_ 9/20/10- Larry interviewed Howard Potter, board member of the Association for Corporate Growth Denver, ACG and is a JD, MBA and more. Howard is also on the board of FEI, Financial Executives International. He is passionate about, cross-networking. Larry said, "I hear the term networking and then I hear cross-networking, are they the same thing?" Howard gave an extremely eye-opening reply. "I think they're very different because when you cross-network, I think you get out of your 'comfort zone', and you begin to network in areas that you're not familiar. It's not the ordinary family and friends, church and workplace and that really embellishes and enriches your networking when you begin to cross network. There are a few rules when you cross network, that are obvious but I think people just forget about them. For example you've heard the expression, "It's not what you know, but who you know." That's not the complete story. I think it's who you know and what you know. But also who knows you. And, who knows what you do? If you don't have all those elements then you're not cross-networking successfully. People have to know who you are and what you do, and when they do, you can be a resource for them and vice versa. So when you network, you need to make it known of who you are and what you do and begin to build that network. So, to the rules, for example not to carry a business card is unbelievable. I have been elk hunting in Aspen and have my business cards with me, and I've given them to people. Another one of my rules is, I like business cards that you can write on. Likewise, when you send an email, have your signature block with your phone and address so it's easy for them to get back in touch with you. This is the fifth year that I've hosted the Investment & Finance Cross-Networking Event, October 20, 6-8:00 PM. There are no speakers, just big shrimp and lots of wine. Last year we had 260 people attend. It's become very successful and..."
Related Links: Investment & Finance Cross-Networking || ACG Denver || M&A Channel || Podcasting Directory|| Keywords: Howard Potter, Cross-Networking, Networking, Association for Corporate Growth Denver, ACG, Investment, Finance - 9/20/10 bytes: 6434484
Listen to: Howard Potter, ACG, Cross Networking

Powered by Podbean.com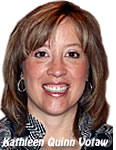 848_ 5/24/10 - Integrating roles, values, culture and brand


There is so much talk about branding, and yet so many don't really understand what branding really entails. Larry talked with Kathleen Quinn Votaw, after an ACG planning meeting. Kathleen is President of the Association of Corporate Growth (ACG) Denver and CEO and Founder of TalenTrust. In a recent Talent Trust newsletter, 'the people side of branding' was profiled. Kathleen said, "We talk a lot about branding in corporate America, but many times people don't think of branding when it comes to yourself, or the employees that work for you - The employees that work for you are actually the living brand. If they don't have the same values as the company, then you're going to have a disconnect between your overall company and the brand of your employees.' Then they discussed how to get people involved and how to get them to represent your brand effectively. "First and foremost, the company needs to be clear on their brand, and then the directors of the company need to be clear on the brand. What we find within corporate structures, emerging companies and middle market companies is there is a very big disconnect between what the leadership team thinks their brand is and what the employees think their brand is. We call it "Big Culture / Little Culture" (another article written by TalenTrust). We really help companies focus on identifying the values of their company and interviewing for those values. So if you have an existing team you really have to understand what their values are and how they align with your overall brand. If you think of your brand, your brand is your values, right? It's what you value and what you're going to bring to the market place above all else." There's more...
Related Links: TalenTrust || Living Your Brand || ACG Denver Home || ACG Denver Events || M&A Channel || Keywords: Kathleen Quinn Votaw, TalenTrust, Association of Corporate Growth Denver, ACG, Branding, Values, People, Living Your Brand 5/24/10 Chnl: ACG bytes: 5370256 Listen to: Kathleen Quinn Votaw, CEO/Founder, Talent Trust

Powered by Podbean.com
854_ 6/14/10 - From Caterpillar to Advice for Parents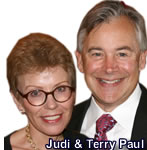 Larry had an opportunity to interview the keynote speaker at an ACG luncheon meeting, Terrance Paul, CEO, Renaissance Learning and his personal and professional partner, Judi Paul. Renaissance Learning has advanced technology which makes the practice component of your reading, math, and writing curriculum more personalized—and effective—than ever before. Adopted by more than 75,000 schools, the computerized assessment tools for 21st Century classrooms help you save time and money as you accelerate learning in every student, pre-K–12. Going back to the beginning Terrance said, "It started with Judi in 1984 when she was trying to help our son read more. She created a paper system that became the 'Accelerated Reader Software' program, which now is the leading reading program in schools today. So it started at our kitchen table and the basement of our home and then grew to a company that has about 900 employees." Larry said, "Judi, we have children and they're always motivating us to do things. I think what you did for your son is fantastic." Modest Judi replied, "Thank you, it was necessary, our son wasn't doing well in school. I knew if he became a good reader, even if he didn't do his homework he would be able to succeed because reading is highly correlated with success, later, in whatever career you choose." They both had advice for parents. Terrance, "Start at birth, reading books to your child and talk to your child. These are the most important things that will get them prepared for school and give them that receptive vocabulary which later leads to long term academic success. Judi agrees and adds, "The more time parents can spend talking with their children, turning off the TV and turning off the computer and engaging in texts (books), the more successful they will be academically. There's more...
Related Links: Renaissance Learning || M&A Channel || ACG Denver || Mastering Change Blog || Keywords: Terrance Paul, Judi Paul, Accelerated Reader, Renaissance Learning, Parents, Association for Corporate Growth, Denver, 6/14/10 CHNL: ACG bytes: 3270951
Listen to Terrance & Judi Paul, Accelerated Reader

Powered by Podbean.com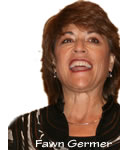 811_ 3/22/10 - Recession: Making us for better or for worse


The keynote speaker for the Celebrating Women in Corporate Growth Breakfast at the ACG Denver 8th Annual Rocky Mountain Corporate Growth Conference was Fawn Germer, Bestselling Author and Pulitzer-nominated journalist (formerly with The Rocky Mountain News). She is author of author of 'Finding the UP in the Downturn' 'Mustang Sallies' and 'Hard Won Wisdom. - Oprah Winfrey's favorite. The audience walked away with a number of hands-on ideas. Larry interviewed Fawn so those who missed seeing her could benefit from her ideas. Fawn said she learned from a real 'walk through fire' that happened to her several years ago. That we really define ourselves by how we react when things get difficult, and so she wrote about that in Finding the UP in the Downturn. "I believe your greatest opportunity to succeed is when everyone else is giving up." Of course Larry could relate to this having started 12 businesses in 6 different countries, he always learned more from the downfalls and mistakes. Fawn goes on to say, "We're learning to persevere through these difficulties, and that's the measure of an entrepreneur. Figure out how to pivot and shift and adjust so that you can find success in spite of everything. Just keep going through the darkness, you'll get there." Larry asked what do you do on the spot, when you're facing a challenge. "Do it a minute at a time if you have to. If you're looking too far out then you just see darkness and it's easy to quit. It comes from this internal fortitude of knowing you can move ahead a minute at a time, then reconnect with the passion that got you going in the first place. Realize you're fighting to do something you love." Listen for more...
Related Links: Fawn Germer Website || Hard Won Wisdom Blog || ACG Corporate Growth Website || ACG Denver Home || M&A Channel || Keywords: Fawn Germer, Finding the UP in the Downturn, ACG Denver, Rocky Mountain Corporate Growth Conference, Celebrating Women in Corporate Growth > bytes: 3673446 Chnl: ACG 3/22/10 LISTEN to Fern Germer, Author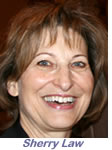 783_ Communication rules in a bumpy economy 2/1/2010


In an article that appeared in cobiz.com Sherry Law, founder of Evergreen Communication wrote about, "The counterintuitive communicator: How to make the Great Recession a mere blip in your company history." The article really caught Larry's attention so he pursued an interview with her. Larry asked, "What does communication have to do with managing through the recession?" Sherry explains in detail and there are three primary benefits, "Productivity, retention and ultimately performance." She went onto explain, "If your best employees are satisfied and loyal, and not just marking time, you'll be way ahead of your competition during the recession and long after. Communication will help generate the high levels of employee engagement and performance you need to recover from the mess we're in. Employees need clear, transparent, frequent communication about what your company is doing in these extraordinary times, and how and why. Following are three tips that may be counter to your intuition, but help ensure your company's continued success. Counterintuitive Tip #1: Express your feelings along with the facts; you'll show strength. Conventional wisdom dictates that when CEOs and other leaders reveal their personal feelings it's a sign of weakness. Don't believe it. Counterintuitive Tip #2: Don't hype or spin the message. Tell it straight. In an effort to "protect" employees or to keep from de-motivating them, well-intentioned leaders put a positive "spin" on news. This results in exactly the opposite of what is intended. Counterintuitive Tip#3: Communicate even if you don't have all the information yet. Certainty doesn't exist. Remember a time when you've sat on a plane waiting, and waiting, for it to take off. No word from the pilot, and the flight attendants have no information about the delay. How productive were you while you waited for information? Not very. Listen for more...
Related Links: Evergreen Communication || Colorado Biz Article || ACG Denver || M&A Channel || Rocky Mountain Corporate Growth Conference || Keywords: Sherry Law, Evergreen Communication, Communication, CObiz, Economy, Productivity, Retention, Performance, ACG Denver, Counterintuitive Communicator > Channel: ACG/Entrepreneurs 8543547 bytes - 2/1/10 LISTEN to Sherry Law, Evergreen Communications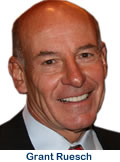 752_ Managing Beyond the Recovery: New Realities, New Rules and New Values


"What we're seeing is that there will be a reset, what some executives call a reset with this economy. And at some point we are going to see a new normal. Some major economists think that what we will see, going forward over the next several years, a lower growth US economy with higher levels of unemployment, a weaker dollar, higher taxes, bigger government spend and I think also some concern about whether we will have a higher rate of inflation going forward," said Grant Ruesch. Grant is the Operational Co-Chair of the ACG Denver Rocky Mountain Capital Growth Conference for 2010 and he also serves as chair of the content committee. The theme is a very important element for us and we began thinking about right after finishing last year's conference. We came up with the theme called "Managing Beyond the Recovery: New Realities, New Rules and New Values." Grant went onto point out, "It is a very important time as we recover from the most serious recession since World War II, with the kind of structural imbalances that we have to really figure out what it's going to be like going forward. Right now the signals are mixed - there are signs we are beginning to lift out of the deep recession but there are also some troubling remnants of the economic contraction that indicate a slow recovery in terms of job creation and the resumption of consumer spending which drives economic activity. These indicators include: a distressed commercial real-estate market; high unemployment; stalled consumer spending; lack of business confidence to support new capital investment; lack of investor confidence; a political and policy environment that is very difficult to discern." The answers and the experts will be at the 2010 ACG Denver Rocky Mountain Capital Growth Conference on March 17 & 18, 2010. We'll be there...Managing Beyond the Recovery: New Realities, New Rules and New Values... Learn more...
Related Links: ACG Denver Rocky Mountain Capital Growth Conference || ACG Denver || M&A Channel || 3/11/09 Photos || 3/12/09 Photos || Keywords: ACG, ACG Denver Rocky Mountain Capital Growth Conference, Grant Ruesch, Managing Beyond the Recovery: New Realities, New Rules and New Values > Channel: ACG 9605262 bytes 12/7/09 LISTEN

w3w3® Internet Radio Featured Media Partner

Miss an ACG event? Want to know more about what key ACG speakers are thinking? Curious to learn more about other ACG members? There's a wealth of information and photos on the ACG channel at w3w3.com. ACG-Denver chose w3w3 Internet Radio as a media partner and they've gone over the top in delivering for us. Larry and Pat Nelson get additional perspectives from many of our speakers in their interviews and capture the experience of ACG events through photos. Their interviews with ACG leaders provide insight on a variety of business topics. ACG's channel is one of many on w3w3. Larry and Pat capture the news and views from the governor, Metro area mayors, business leaders, entrepreneurs and prominent players visiting here from the around the world in their interviews. Join the thousands of business people who keep informed by regularly checking www.w3w3.com. And sign up for the newsletter.
Related Links: ACG Denver || Mergers & Acquisitions || 12/15/08

Go To Archives for:
2012 - 2011 - 2010 - 2009 - 2008

ACG Event Photos by w3w3.com
Click Photo to see Complete Album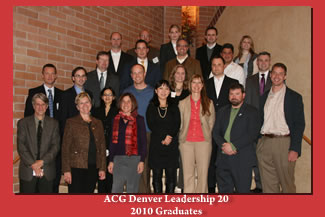 ACG Denver, Leadership 20 Graduates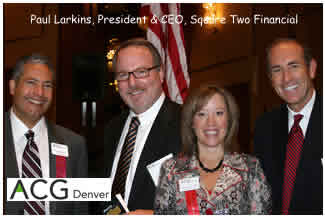 Nov. 2, 2010 - Paul Larkins, Square Two Financial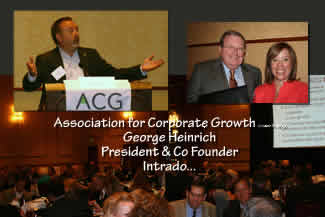 October 5, 2010 George Heinrichs, Intrado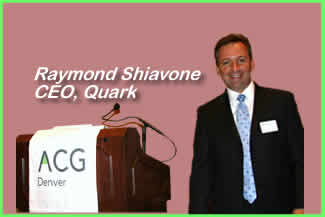 Raymond Shiavone, CEO, Quark 9/14/10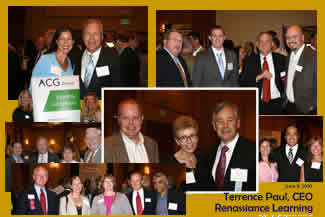 Terrance Paul, Renassiance Learning 6/8/10

Corporate Executive Breakfast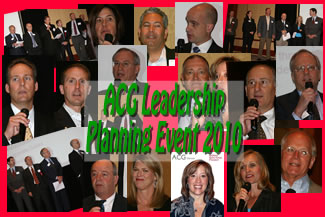 Leadership Planning Event 2010 5/2010

May 4, 2010 - ACG Denver with Timothy Marquez
University Scholarship Awards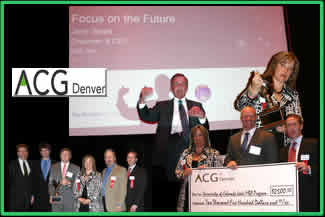 ACG 4/6/10 Jerre Stead, IHS, Inc.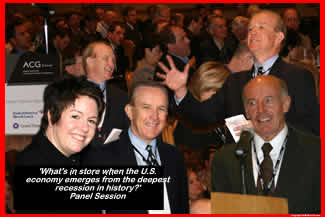 ACG Corporate Growth Conference 3/17/10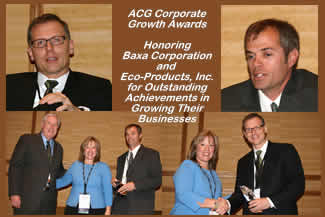 Awards Honoring Outstanding Achievements 3/17/10

Celebrating Women in Corporate Growth 3/17/10

ACG Sponsor Appreciation Dinner 3/4/10


ACG Denver: Sean Menke, Frontier Airlines 2/3/10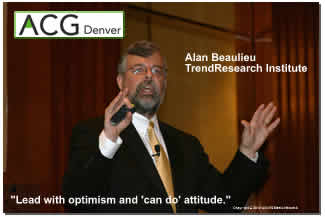 ACG Denver: Alan Beaulieu, Inst for Trend Research 1/5/10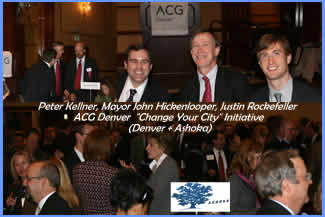 Peter Kellner, Justin Rockefeller: Change Your City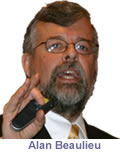 771_ Put money into advertising your product, your position


The keynote speaker at the January ACG Denver meeting was Alan Beaulieu, president of the Institute for TrendReseasrch. Larry was anxious to hear Alan's opinions regarding the economic recovery and asked about some of the business trends coming. Alan replied, "Let's start out with the largest 'sustainable recovery', two words that everyone wants to hear. This is not a sugar high, this is a sustainable, cyclical recovery. But it will be mild. It will be a slow turn. Unemployment is problematic; the banking crisis isn't going away over night." Larry went on, "What are some of the things organizations can do to deal with the recovery?" Alan emphasized, "The first thing I would do is to make sure they know what their competitive advantages are. They have to be sharp, clear, known throughout the company and then spend money promoting them so that the few customers that are out there have a compelling reason to buy your service or buy your product. So that you're not lost in the herd. Start spending money promoting yourself and what you do. Get ready for an improvement. A lot of firms have been hunkered down for so long that they're slow to start thinking. Get over yesterday, start thinking about what we're going to need to bring people in; the competitive advantages; and how we're going to meet the need; quick delivery, quality delivery, well trained people. Put money into advertising the product, the position; put money into everything you need to do get ready for even marginally busier times because that will flow right to your bottom line." They went onto discuss challenges, the timing of M&As and advice for entrepreneurs...
Related Links: Institute for TrendReseasrch || ACG Denver || M&A Channel || Rocky Mountain Corporate Growth Conference || Keywords: Alan Beaulieu, Institute for TrendReseasrch, ACG Denver, Association for Corporate Growth, Trends, Economic Recovery, M&A, Entrepreneurs > Channel: ACG 4910140 bytes 1/11/10 LISTEN to Alan Beaulieu

ACG Denver Events - You are on 2010 Events
Archives for 2009
Archives 2008-07