Coming EVENTS w3w3® Media Network will be there!
1/10/05 PM – Night With a Futurist
1/11/05 PM – Rockies Venture Club
1/12/05 AM – Leadership Coffee Klatch
1/19/05 AM – CLE/SBIR – Attorney's & Their Clients
1/27/05 PM – DTP Future of Telecom



Web Community Calendar - CHECK/POST Events


Check out the LifePics Photo Albums…
you could be there!

Entrepreneurs — Rockies Venture Club is hosting an Event with 10 of the most important and supportive organizations to entrepreneurs on Tuesday the 11th ...CTEK, SBA, SBIR, OEDIT, DaVinci, NAWBO, CU Tech Transfer, World Trade Center, IdeaLab, Denver OED and w3w3® Media Network. Location and the Details... we'll be there www.rockiesventureclub.org/


Returning from Singapore — Disaster Relief
Dr. Murray Hamilton, Director of Homeland Defense at the University of Denver returned from Singapore just shortly before the Tsunami, where he chaired a symposium on "Homeland Security & Emerging Threats". The focus was Strategic Stockpiles (Medical) for smaller countries. Here's a lesson to learn. 1/10/2005


We Need Your Eyes & Ears — and Your Ideas
Focus groups and Advocate program starting January 2005.
We invite you to participate in our first focus group for the w3w3® Media Network. Help w3w3 Serve You better! Choose one: Thursday, 1/20/05 - 3:30 to 5:30pm and repeated on Tuesday, 1/25/05, 10:00 to 12:Noon. RSVP Required. 1/10/2005


Boeing, Ball, Raytheon, Celestica, SBIR Grants & Awards
The 4th Annual SBIR Conference includes the first SBIR Colorado Awards Banquet honoring those companies that tapped into the federal government's multi-billion dollar grant program and successfully commercialized their dreams. That's why it's called "The Innovative Edge"… Russ Farmer will tell you how. 1/10/2005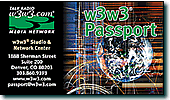 Your w3w3® Passport - Rising Tide
Be part of Colorado's Rising Tide. Get your message out with the help of an interview on the w3w3® Market Buzz. Become part of Larry & Pat's inner circle.



Colorado, Portal Authority, eGovernment and MNT
Governor Bill Owens at the Colorado Technology Summit signed senate Bill #244. Leroy Williams, Secretary of Technology and CIO for Colorado and his team have been working on its implementation and execution quite diligently. In 2005 we should see a number of new & exciting things in CO's eGovernment.


Microsoft, Youth, Minorities, and the Short Funnel
More women and minorities are needed in computer sciences says Rich Kaplan, Corporate VP for Security Business at Microsoft Corp. One of the keys is in the youth market, and Microsoft supports a number of high school intern programs. There's a short funnel/ pipeline and that includes native Spanish speaking developers.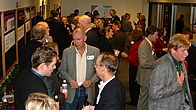 Winners, Networking, Prizes and a Time to Enjoy
Someone was lucky enough to win an "XBOX" donated by Microsoft and someone else won a super Canon color/photo printer donated by CompUSA. It was a high-energy fun party. The new w3w3® "Passport" program was announced by Larry & Pat Nelson. Over 100 people showed up, check it out



5 Fundamental Characteristics of Achievers
This is the first issue of "Beyond the Trends" This powerful five minute audio presentation by Larry Nelson, producer of w3w3 Talk Radio, is loaded with golden nuggets you can apply immediately. Here's a classic rerun. Beyond the Trends - Volume 1 - Issue 1.



Microsoft's Solution to Weapons of Mass Annoyance
If you think spam is bad, listen to Rich Kaplan, Corporate VP for Security Business at Microsoft Corp. Spam is annoying, but it's often just the delivery system that can cause a great deal of harm to you and your organization. Larry asks some tough questions about what Microsoft is doing to improve the situation. 12/13/04



IronWare's Solution to Raising Money & Protecting Investors - Entrepreneurs, whether start-ups or looking to expand, often go empty-handed after talking with a potential investor. Mark Mynatt, Partner Engagement Manager at IronWare Technologies shares some steps that can be taken to both raise the money while protecting the investors. It's a must listen if you're in the money food-chain. 12/13/04




Colorado's Solution for Executing Vision with Partners
Advance Colorado, in just 3 months has gone from conception to reality. Brian Vogt, Director of the Office of Economic Development and International Trade along with Lu Cordova, President of CTEK Colorado Venture Centers share their vision of cooperation, collaboration and integration…it's an overnight success. 12/13/04



NanoTechnology – Northern Ireland & CO Collaborate
Nanotechnology will impact the worldwide population. Dr. Robert Brown, director of Nanotec Northern Ireland along with Dr. Louis Hornyak, Ex. Director of the Colorado Nanotech Initiative talk about industrial regeneration, commercial exploitation for wealth creation. 12/6/04 Check out the LifePics Photo Album: NanoTech Breakfast University of Denver



Check out the

ARCHIVES with Photos


ARCHIVES LIST - Alphabetized by Name
Research and know the people in your community -
Step one in the Art of Networking!
First-Class Associations with high-quality events.
Details Web Community Calendar CHECK / POST Events
You'll find: CIK, AeA, RMIMA, RVC, ISSA, CSIA, CAB, SBIR, TiE Rockies, AITP, Denver TeleCom… All on the Calendar

Thank You !
Our Sponsors' Support
Makes w3w3® Possible!
CONTACT US - Larry Nelson, Larry@w3w3.com




Doing Biz in the UK



Best of Best
in 2003 Photos Too




"The Ultimate WIN"
By Larry Nelson



Be Ready to help!